Annual calendar year statistics. Comprehensive tables of New Mexico registration statistics for each type of motor vehicle, and for all years 1900 to 2014, will be found in Chapter 50 of the
Early New Mexico License Plates book. For those calendar year tallies, please refer to this book. For the 2015 and later figures, please see the table toward the end of this page.

Passenger Car License Plate Allocations by County for 1952
Shown below are the allocations of 1952 passenger car license plates to each county as reported in the Santa Fe New Mexican for February 3, 1952, p. 5. The exact plate serial number assignments for each distribution point are given, as are the gaps between number blocks. These are followed by the actual totals in ( ) for each county. Note that the figures are for pairs of plates, corresponding to the number of vehicles expected to be registered. The grand total of 197,300 proved to be only 711 more than the final year-end passenger car registration total of 196,589 for 1952. Cty = County #. POE = Port of Entry. Transcription from original newspaper article courtesy Eric Tanner.




Cty
Branch Office
Plate Serial #s
Totals in ()


1
Motor Vehicle Cashier
Motor Vehicle Mail Clerk
Joe Parker
Santa Fe Motor
1 - 7500
9001 - 9700
10001 - 14000
15001 - 15400
(12,600)
2
Albuquerque
1-50000
(50,000)

3

Carlsbad
Artesia
1-10000
10001-15000
(15,000)
4
Roswell
1-15000
(15,000)
5


Clovis
Melrose
Texico POE
1-6000
7001-7600
8001-9000
(7,600)
6




Hobbs
Lovington
Eunice
Maljamar
Jal POE
Tatum POE
1-5000
6001-8500
9001-10200
10501-10600
10701-12200
12701-16500
(14,100)
7


Las Cruces
Hatch
Anthony POE
1-5500
6001-7200
7501-10500
(9,700)

8
Silver City
Bayard
1-4400
5001-6700
(6,100)

9
Raton POE
Springer
1-3400
4001-5000
(4,400)
10
Tucumcari
San Jon POE
Nara Visa POE
House
1-3500
4001-4500
5001-5125
5501-5625
(4,250)

11
Portales
Elida
1-4400
5001-5350
(4,750)
12
Las Vegas
1-4000
(4,000)

13
Gallup
Gallup POE
1-2750
3001-3300
(3,050)
14
Belen
Grants
Cubero
1-3200
4001-4800
6001-6300
(4,300)
15
Alamogordo
1-5000
(5,000)
16
Farmington
Aztec
Cedar Hill POE
Shiprock POE
1-3000
4001-5200
6001-6300
6501-6800
(4,800)
17
Espanola
Chama POE
Dulce
1-3000
4001-4500
5001-5050
(3,550)
18
Clayton POE
Clayton
1-1800
3001-3500
(2,300)
19
Deming
1-2200
(2,200)
20
Taos
Questa POE
Tres Piedras POE
1-1700
2001-2400
2501-2600
(2,200)
21
Truth or Consequences
1-2300
(2,300)

22
Estancia
Mountainair
1-1000
2001-3000
(2,000)

23
Lordsburg
Road Forks
1-1400
2001-2150
(1,550)

24
Santa Rosa
East Vaughn
1-900
1501-1900
(1,300)

25
Socorro
Magdalena
1-1600
2001-3300
(2,900)
26
Carrizozo
Ruidoso
Capitan
Corona
1-900
2001-2700
3001-3350
4001-4150
(2,100)
27
Ft. Sumner
1-1200
(1,200)

28
Reserve
Datil POE
1-300
1001-1400
(700)

29
Bernalillo
Cuba
1-2300
3001-3350
(2,650)

30
Wagon Mound
Mora
1-400
1001-1600
(1,000)

31
Roy
Mosquero
1-400
1001-1300
(700)
32
Los Alamos
1-4000
(4,000)

(Grand Total:

197,300)
County-by-county registration figures for 1956 and 1958. Below are two sets of county-by-county registration statistics recorded as of June 30, 1956, and June 30, 1958. The data is from the New Mexico Bureau of Revenue Biennial Reports for 1954-1956 and 1956-1958, respectively. The financial statements and certain other data within these reports are based on fiscal years that ended on June 30 of each year, but what is not clear is whether the registration figures below are mid-year snapshots of the 1956 and 1958 annual figures, or if they are cumulative fiscal year registration numbers that began on July 1 of the preceding years.

Nonetheless, because these are the only two sets of county-by-county figures for all vehicle types that have ever surfaced, despite years of searching through the State Archives and elsewhere, these tables provide invaluable insight into the distribution of various vehicle types among New Mexico's counties.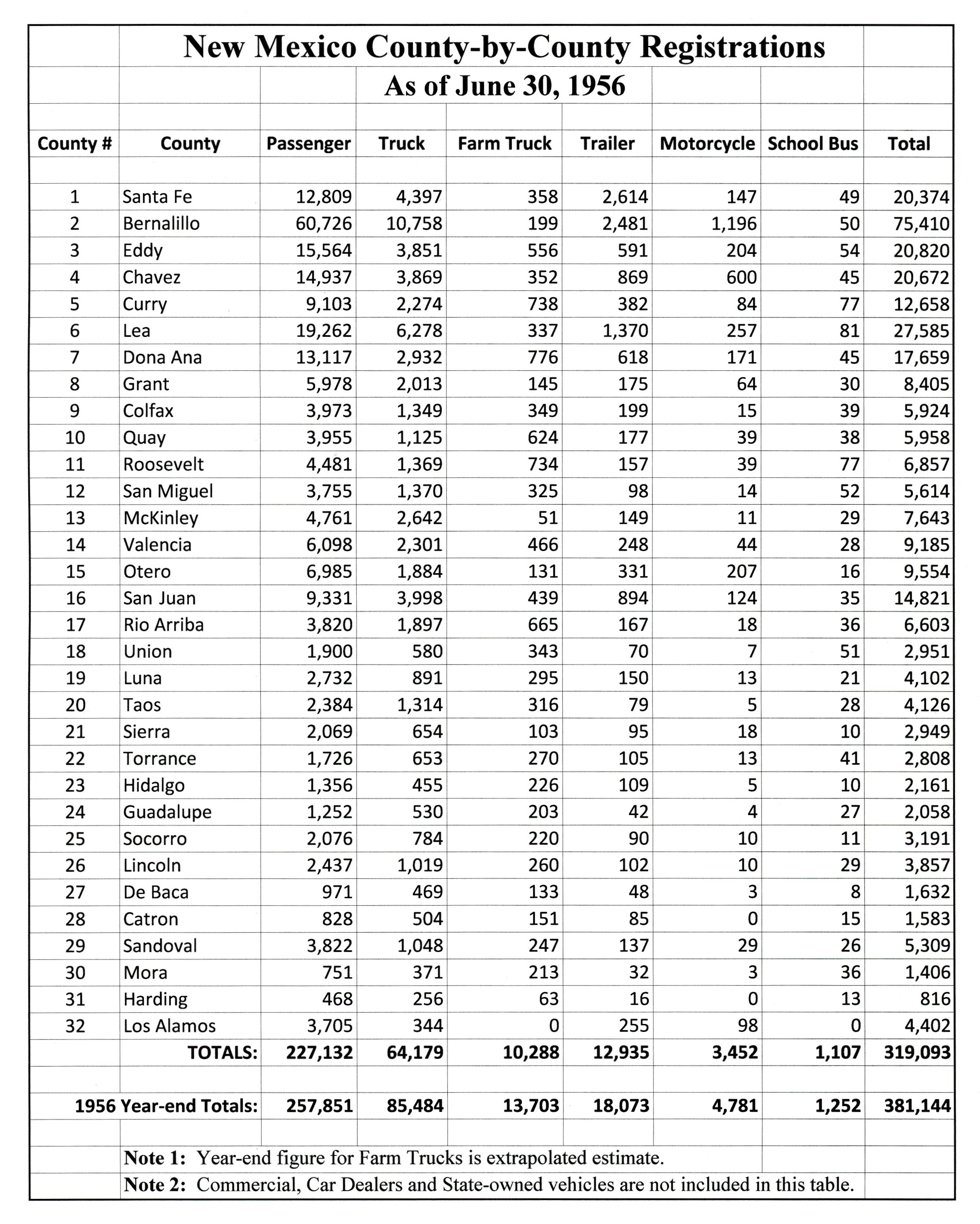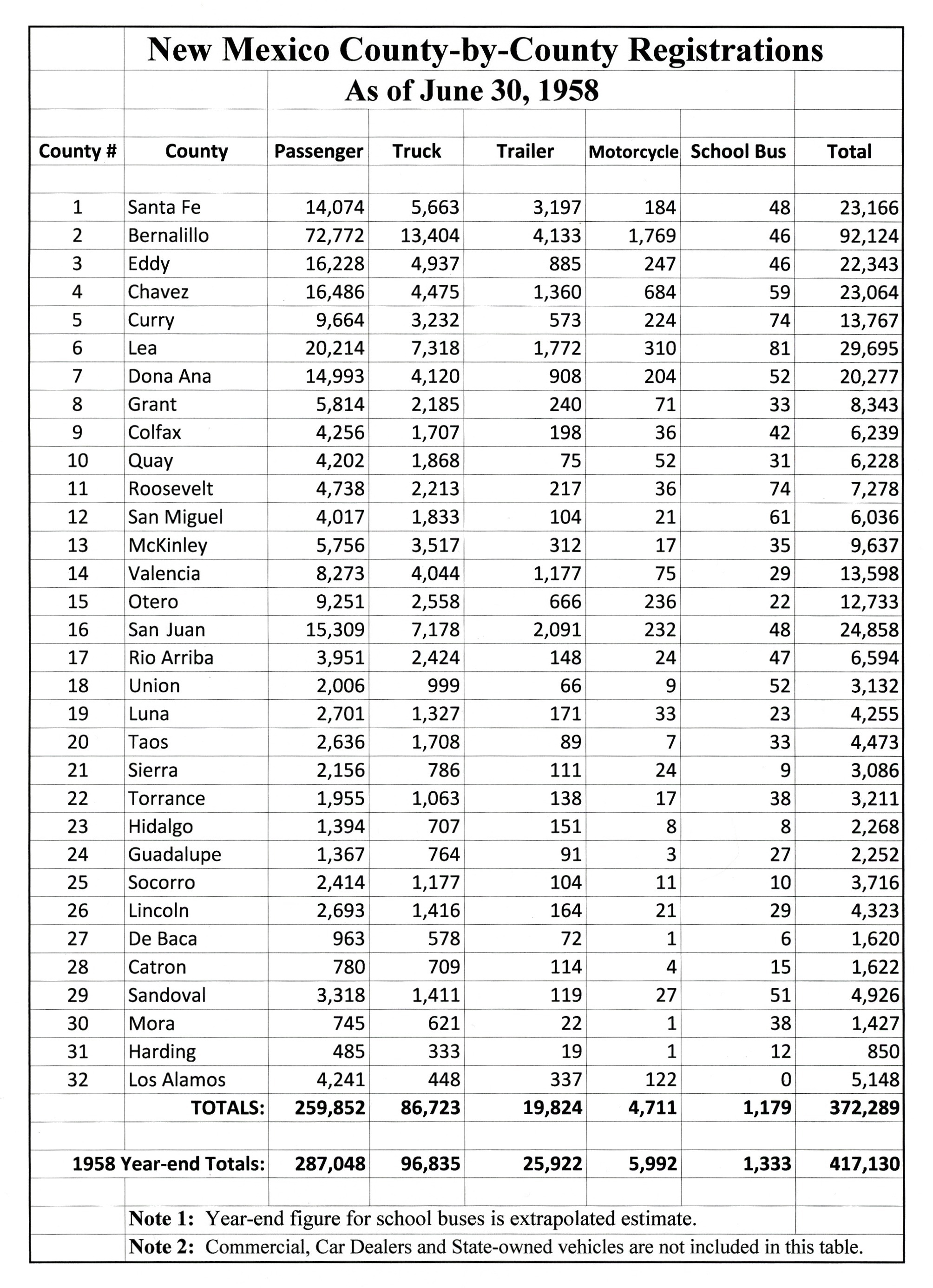 Calendar Year Statistics for 2015 and Later. As noted in the introductory paragraph at the top of this page, the Early New Mexico License Plates book has complete statistics for all years from 1900 through 2014, inclusive. The table below continues with these figures for 2015 and later. For convenience of comparison, and in order to provide context to this later data, the table here repeats the 2000-2014 statistics, then continues with 2015 and subsequent years.

The information in this table is compiled by the Federal Highway Administration (FHWA) and published on their website. Because of the enormity of collecting, organizing, cross checking and proofreading the data submitted from all 50 states and the District of Columbia, it is typically about a year following the close of each calendar year before that year's statistics become available.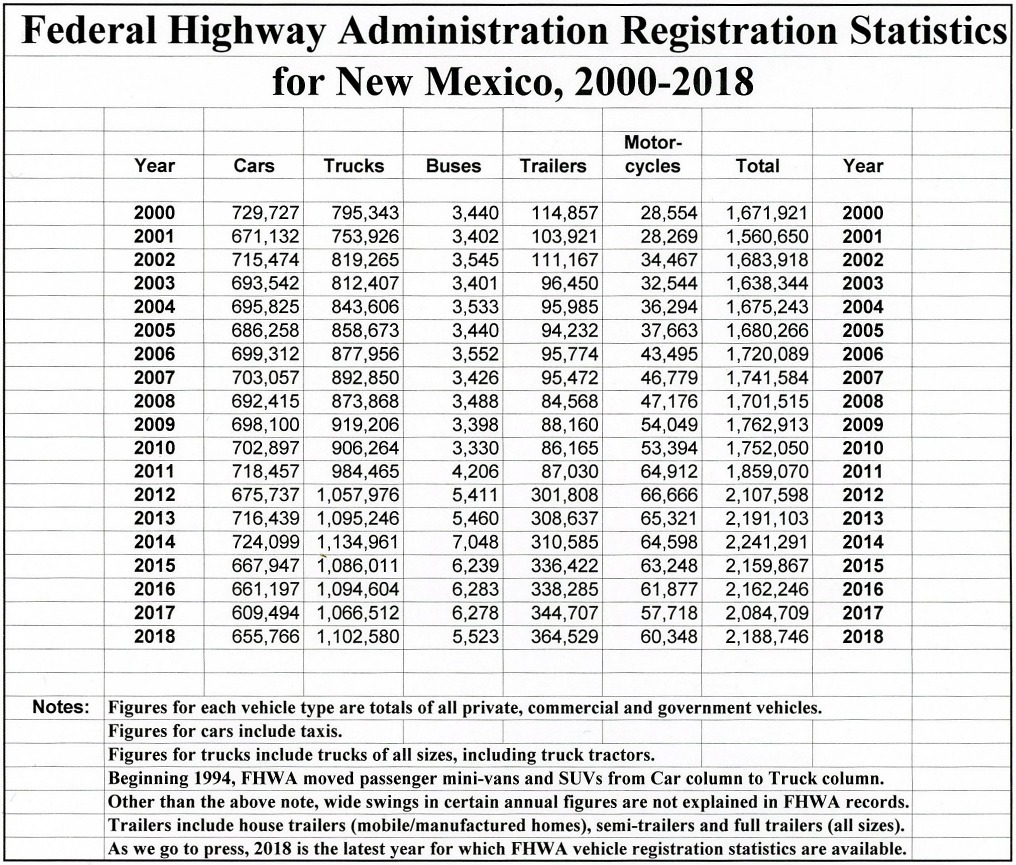 Electric Vehicle Definitions

As yet the classification of electric vehicles is not entirely uniform within the United States, nor for that matter are all such vehicles found to be correctly coded on their titles. The same is no doubt true in New Mexico, but the table above and the definitions below provide a good idea of the numbers of the principal types of electric vehicles registered in this state.

Hybrid-Electric (fuel code B). Currently the most common type of electric vehicle in New Mexico, these vehicles have both a battery-powered electric motor and a gasoline engine. The battery is charged by an alternator on the gasoline engine, and cannot be charged by plugging into an electrical outlet. Also called HEVs (Hybrid Electric Vehicles), the vast majority of vehicles sold as "hybrids" by the major auto makers are of this type.

Electric (fuel code E). Also called Battery Electric Vehicles, or BEVs, they run entirely on an electric motor powered by a rechargeable battery. Charging is accomplished by plugging into an electrical outlet. Examples include the Tesla and Nissan Leaf, which are sometimes referred to as all-electric vehicles.

Hybrid (fuel code H). A generic term for any vehicle that runs partially on battery power and is charged by plugging into an electrical outlet. These are also referred to Plug-in Electric Vehicles, or PEVs. They are not considered to be as versatile as the Hybrid-Electric and are not at all common.

Gas-n-Electric (fuel code X). These are plug-in hybrid vehicles (PHEVs) which have an electric motor with a rechargeable battery, as well as an independent gasoline engine. The battery for the electric motor is charged by plugging in to an electrical outlet. If the battery becomes discharged the vehicle can be switched over to the gasoline engine. Also not particularly common, the Chevrolet Volt is an example of this type.