Illustrated here are a few license plates and related items not readily placed in the categories covered elsewhere.

Humble Oil & Refining Company plate #227NM. Found in the oil fields of eastern New Mexico, this plate was probably used by the company as a vehicle inventory property identifier.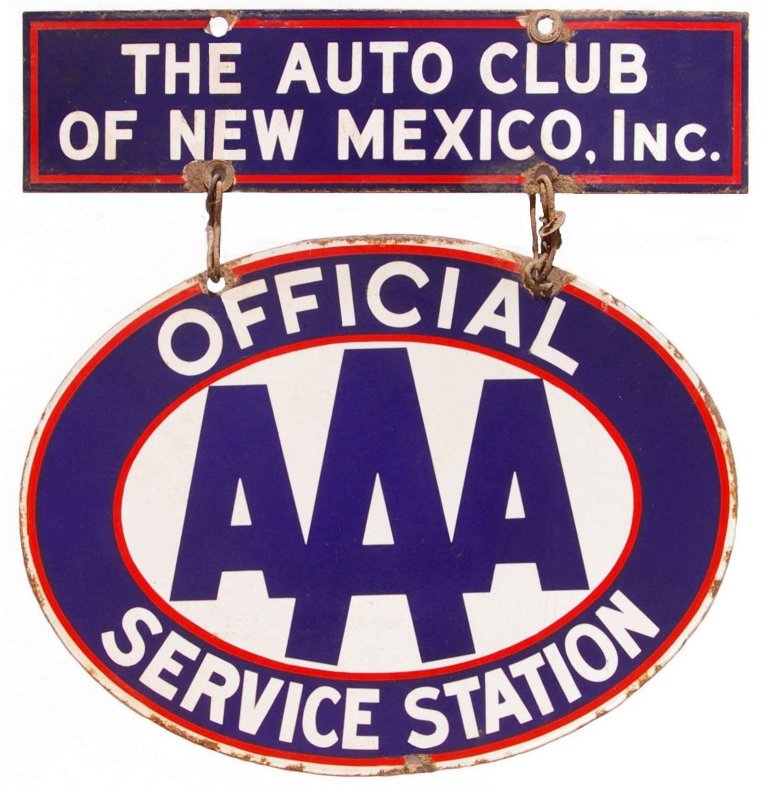 1920s porcelain sign found in Carrizozo dump in the 1980s.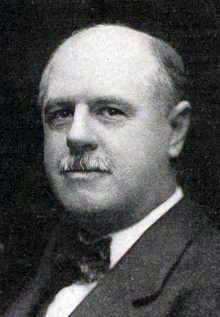 Charles Henry Davis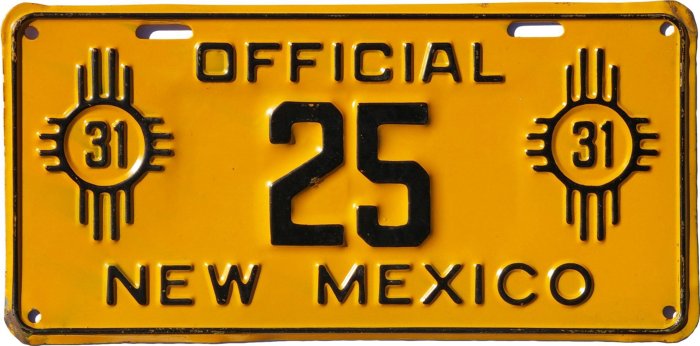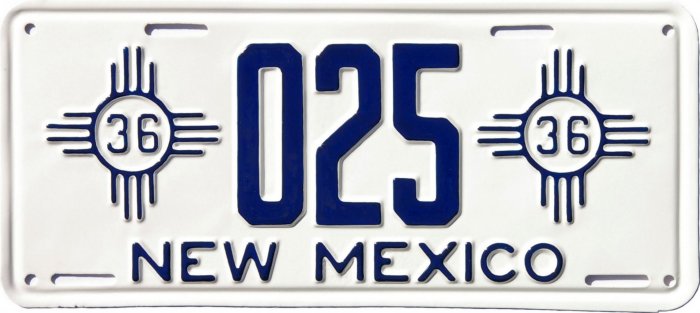 1931 plate #25 and 1936 plate #025. Charles Henry Davis of South Yarmouth (Cape Cod), Mass., established the National Highways Assn. in 1911 and spent more than two decades crisscrossing the country to promote good roads. Each year during that period, officials of every state issued to him plate #25, with which he covered every square inch of his car. Illustrated here are just two of the dozen or more New Mexico plates he received, which in turn represented just a fraction of the hundreds of #25 plates he accumulated over the years. An excellent summary of his career can be found at: www.fhwa.dot.gov/infrastructure/davis.cfm

An even more in-depth article on Davis, which includes more than 160 photographs, appeared in the October 2018 issue of PLATES, the official publication of the Automobile License Plate Collectors Association (ALPCA).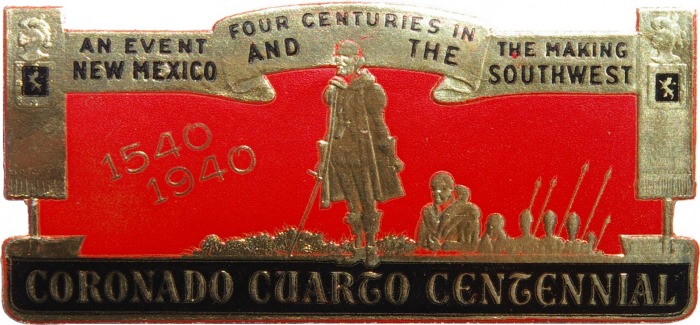 1940 Coronado Cuarto Centennial sticker. The year 1940 marked the 400th anniversary of the entrance into what would become New Mexico by a Spanish expedition led by Francisco V

á

zquez de Coronado. Coronado and his men were the first known Europeans to see New Mexico, as well as other points probably as far north as Kansas. The anniversary was marked by the issuance of New Mexico's first commemorative license plates for both passenger cars and trucks, as well as other promotional items such as this sticker.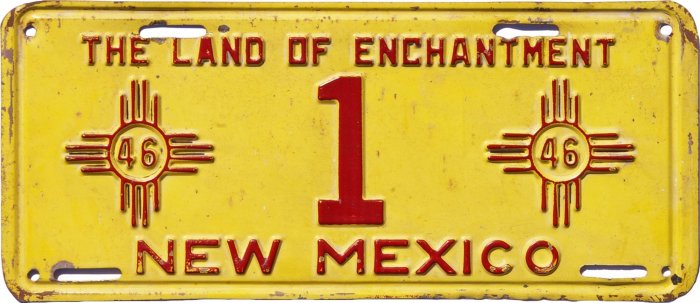 1946 Passenger Car plate #1. This is regular Passenger Car plate, not a Governor plate. Because the registration records for 1946 have not survived, the original owner of the plate has not been identified.

Raton City License #1. This is a small plate, the purpose of which is unknown, and which may or may not be associated with motor vehicles.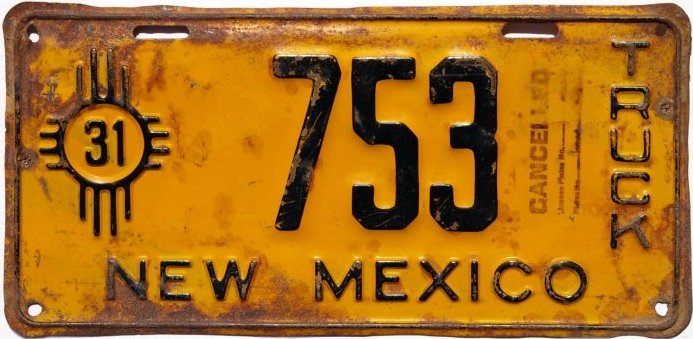 Canceled 1931 Truck plate. Noted the cancellation stamp just to the right of the serial number.

See also Uninsured Vehicle for another type of canceled plate.
New Mexico Tech #251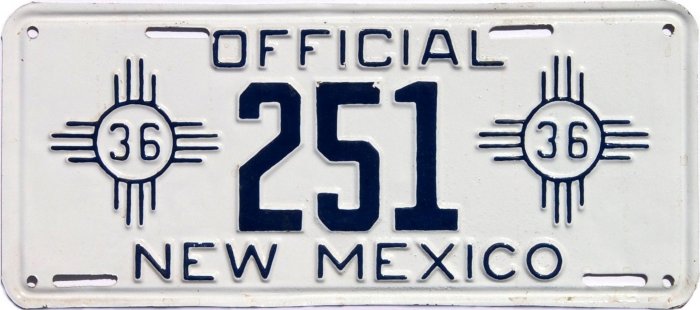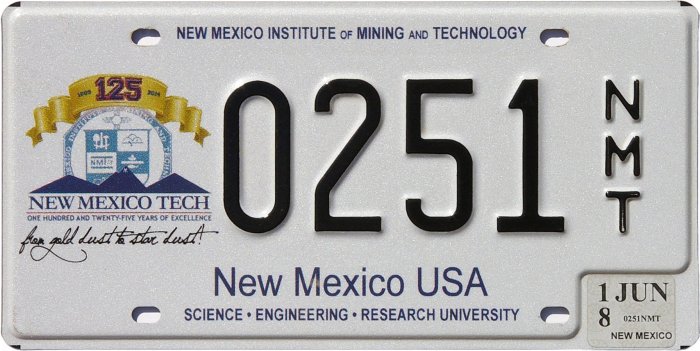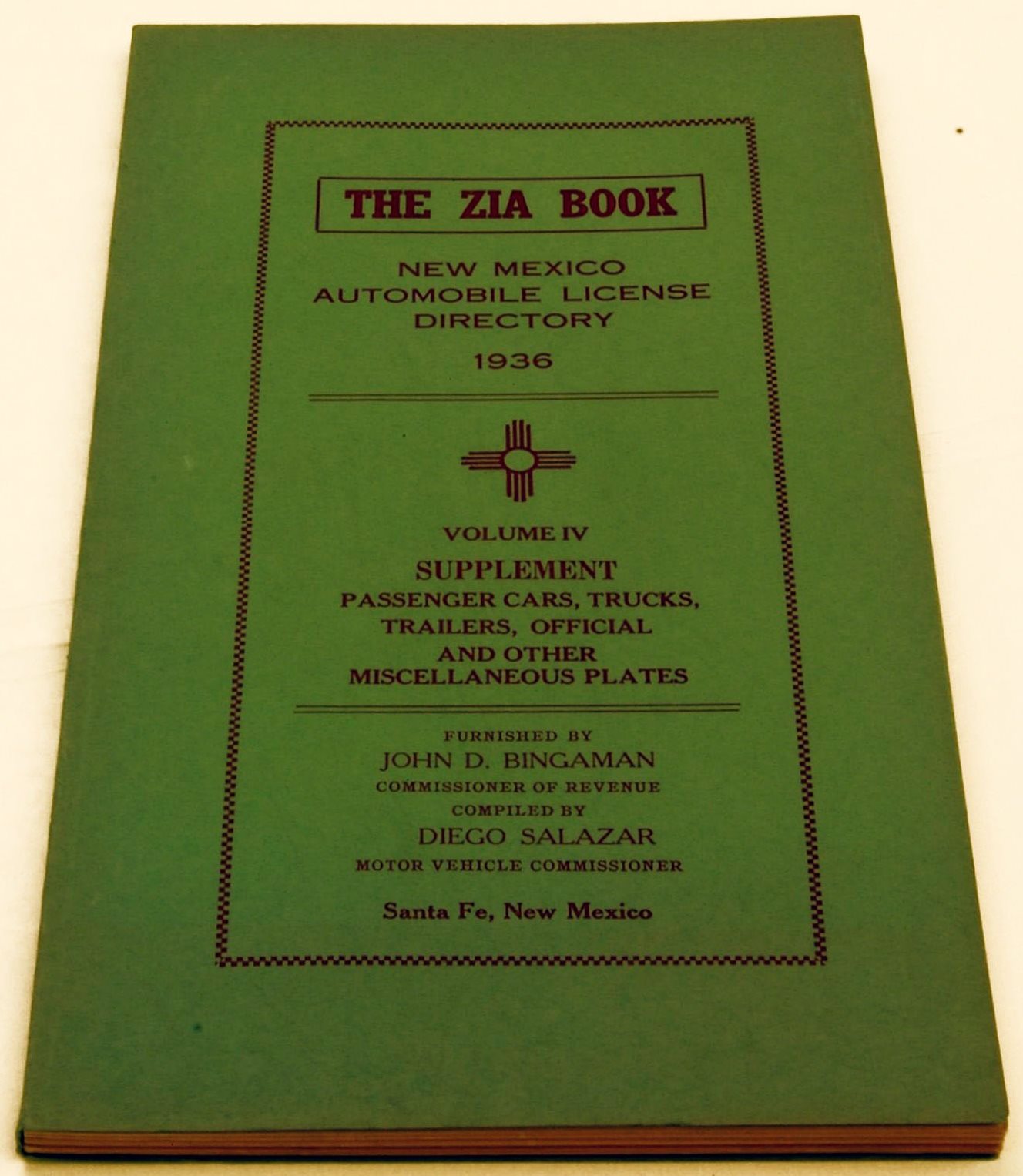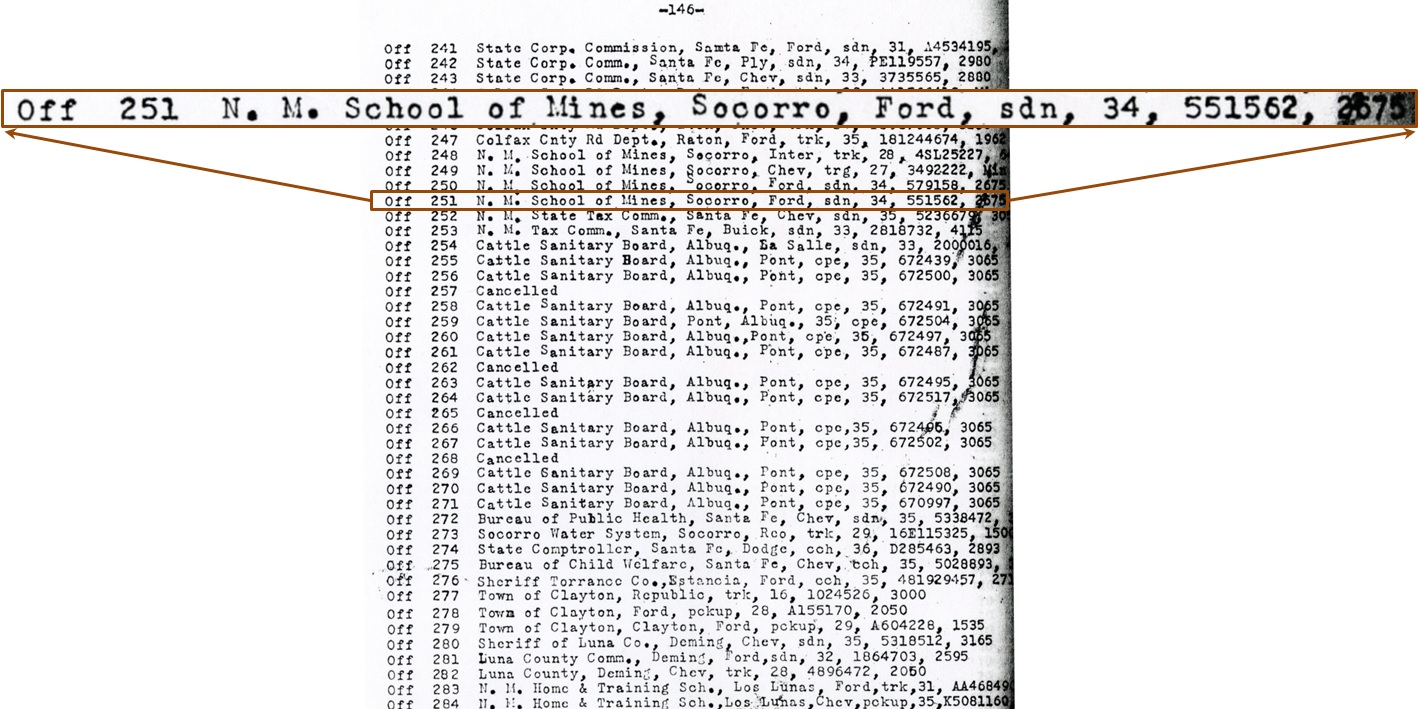 NMTHP owns 1936 New Mexico Official plate #251, which according to the records for that year was registered to the New Mexico School of Mines. Located in Socorro, the New Mexico School of Mines was founded in 1889, but in 1951 the school adopted its current official name of the New Mexico Institute of Mining and Technology. The university is most commonly known today as New Mexico Tech. After an exahustive search and thanks to a very generous donor, we have located and acquired the modern New Mexico Tech #0251, 81 years after the original was issued. Now the search is on for a photograph of the 1934 Ford that displayed the original plate. If you know of such a photo, please contact us! See our Collegiate page for examples of modern plates that support New Mexico Tech and other New Mexico institutions of higher learning.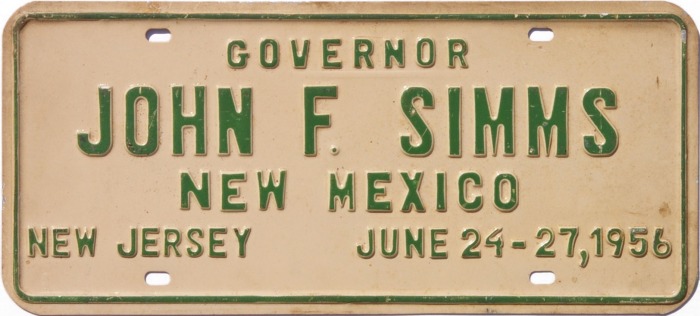 1956 National Governors' Conference Booster Plate. Governors from all states typically meet annually at a conference hosted each year in a different city. The 1956 conference was held in Atlantic City, New Jersey, where attendees, including New Mexico's governor, John F. Simms (D), received personalized souvenir booster plates.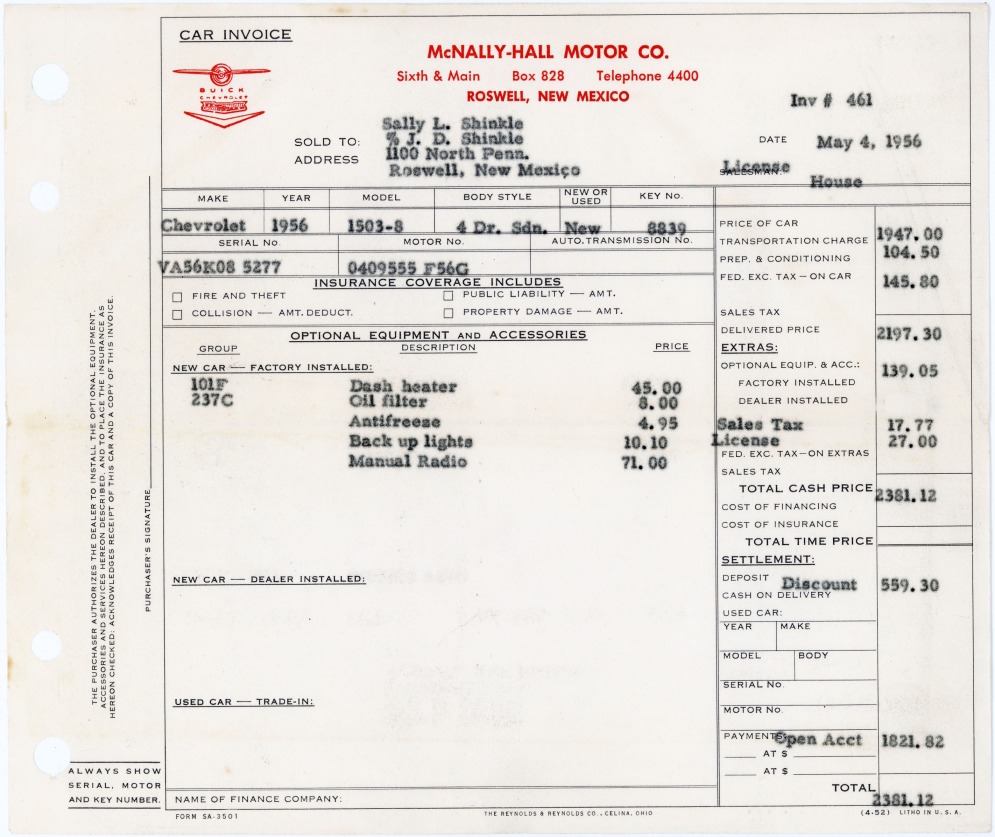 1956 Chevy Sales Invoice from McNally-Hall Motor Co., Roswell, New Mexico. The VIN and engine number show that this was a V8 equipped 1956 Chevrolet Series 1500, which was built at GM's plant in Kansas City, Missouri. The invoice verifies that the specific model was a 1503-8 four-door sedan. The engine was built at the GM plant in Flint, Michigan, and was equipped with a Power Glide transmission.

Watson Chrysler Plymouth Dodge dealership emblem, circa 1950s or 1960s. Made of cast aluminum or pot metal, these three-dimensional emblems were typically affixed to the rear body panel or trunk lid of vehicles sold by new car dealerships, and occasionally on used cars.