-Back-
New Mexico License Plates: A Brief History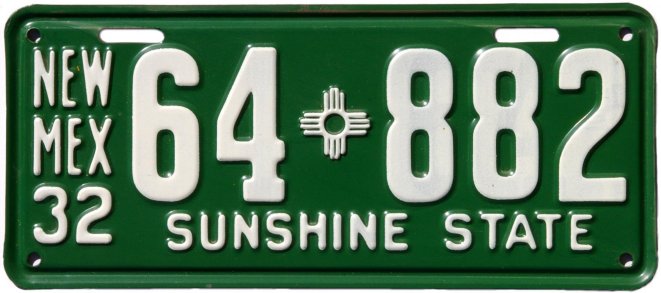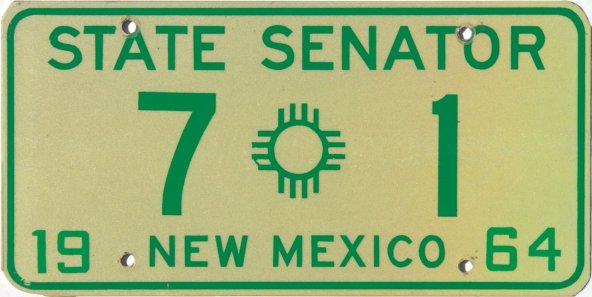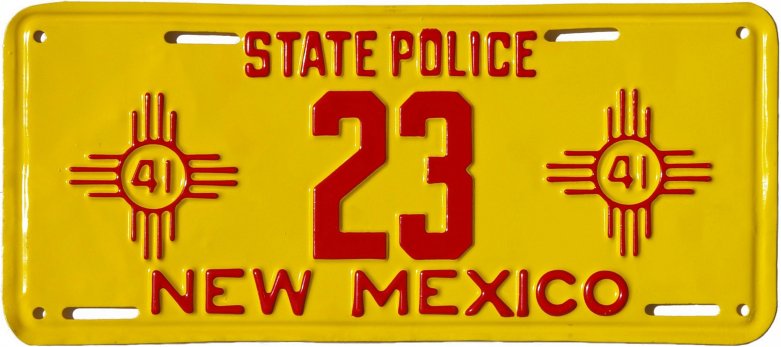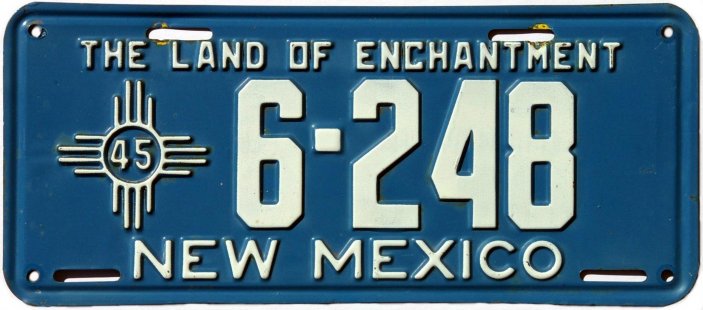 Below is a chronological list of key milestones in New Mexico license plate history. It is not intended to be all-inclusive; rather, it provides a general overview of some of the more important motor vehicle registration and licensing events which have taken place over the past century. For a much more detailed account please see the book Early New Mexico License Plates, whose 600 pages cover all aspects of this fascinating history.
1910 – Although the Territorial government never required the licensing of motor vehicles, Albuquerque, Las Vegas and Santa Fe do so independently beginning in 1910.
1911 – Raton becomes the fourth and last municipal jurisdiction to require licensing of motor vehicles.
1912 – New Mexico is admitted to the Union as the 47th state and begins issuing undated green-on-white license plates to automobiles only. Each vehicle receives a single plate, to be attached to the rear of the car. Louis C. Ilfeld, a wealthy businessman in Las Vegas, receives plate # 1 for his Velie automobile. By year's end, 904 plates have been issued.
1913 – The same undated green-on-white plates continue to be issued to cars, picking up with plate # 905 on January 2. Effective March 15, trucks and motorcycles must be registered, too. Trucks receive the same plates as cars, while motorcycles receive small vertically-oriented plates. By the end of the year 1,898 of the generic 1912-1913 car/truck plates have been issued.
1913 – Also effective March 15, automobile dealerships are required to be licensed, but only 23 dealer license plates are issued in this first year.
1913 – The state prohibits redundant municipal licensing of motor vehicles.
1914 – License plates are dated for the first time. Colors are changed to white on green, and will change again virtually every year for the next fifty years. Not until the 1960's will color changes become less frequent.
1915 – Total motor vehicle registrations exceed 5,000.
1920 – Porcelain-coated license plates are introduced with the idea of saving money by using them for five years. In 1921 through 1924, they are to be revalidated by attachment of a small colored metal seal, or tab, the equivalent of today's renewal stickers.
1920 – The porcelain plates issued to motorcycles are curved so that they will match the shape of the rear fender. The idea is that they will fit snugly, like a glove, over the fender.
1921 – A red diamond-shaped metal seal is attached to the 1920 porcelain plates to validate them for 1921.
1922 – A silver octagon-shaped metal seal is attached to the 1920 porcelain plates to validate them for 1922.
1922 – Total motor vehicle registrations exceed 25,000.
1923 – A yellow 6-pointed star-shaped metal seal is attached to the 1920 porcelain plates to validate them for 1923.
1923 – At mid-year the New Mexico State Highway Department is the first state agency to receive unique license plates. These are porcelain plates, in use for only six months.
1923 – Also at mid-year, and for the first time, certain commercial vehicles, including both cars and trucks, receive unique license plates. These are standard embossed steel plates, rather than porcelain.
1923 – Although they do not have motors, registration is required for trailers, which receive small motorcycle-size license plates. A decade later these will be enlarged to the size of car plates.
1924 – One year earlier than originally planned, porcelain plates are removed from service because law enforcement officials found it too difficult to ascertain whether the revalidation seals on the plates were current. The state reverts to standard embossed steel plates, and for the first time issues two plates to each car and truck—one for the front and one for the back.
1924 – Motorcycle license plates are switched from the vertical format that had been in use for over a decade, to the horizontal format that continues to be used today.
1924 – For the first time, the Governor is given plate #1, the number which Louis Ilfeld had held since 1912. The recipient is Governor James E. Hinkle, a Democrat.
1925 – Experience the prior year showed that some people with two cars would register only one of them, and use one of the two issued plates on each car. To combat the chiselers the words "FRONT" and "REAR," respectively, are embossed on the two 1925 plates.
1926 – The "FRONT" and "REAR" designations on the plates are dropped after just one year of use.
1926 – Total motor vehicle registrations exceed 50,000.
1927 – The zia sun symbol appears on New Mexico license plates for the first time, with the two-digit year appearing inside the zia. Also for the first time, the state name is spelled out in full, rather than being abbreviated.
1928 – The Governor's license plate is made distinctive by embossing the word "GOVERNOR" at the top. The plate bears number "1" and the recipient is Republican Governor Richard C. Dillon.
1929 – Vehicles owned by the various city, county, and state agencies begin receiving license plates embossed with the word "OFFICIAL."
1929 – Vehicles operated within New Mexico by Federal government agencies are provided OFFICIAL plates whose plate numbers include the letters "U.S."
1929 – Total motor vehicle registrations pass 75,000.
1930 – Non-commercial trucks such as those owned by farmers and other individuals receive unique plates for the first time. The word "TRUCK" is embossed on the plate.
1931 – No later than this year, the state began issuing specially designated plates for "Driverless Cars." This contradictory sounding name was the term generally used for rental cars in the 1920's and 1930's.
1932 – Long before the concept of "The Land of Enchantment" was thought up, New Mexico had for many years billed itself as the "Sunshine State" as an attraction to potential tourists, though 1932 was the only year that this slogan is placed on its license plates. The phrase Land of Enchantment didn't appear on her plates until 1941, and Florida, formerly the "Citrus State," didn't pick up New Mexico's discarded Sunshine State slogan until 1949.
1932 – Until the late 1930's many states did not unequivocally honor the license plates of vehicles from other states. Initially, New Mexico, required visitors to buy a license plate after being in state just sixty days. By 1932 the grace period had been extended to six months, and a special souvenir Guest, or "GST" license plate can be purchased by out-of-state'ers at a cost of one dollar.
1932 – Special plates are made available to commissioned officers in the New Mexico National Guard.
1933 – At the urging of Governor Arthur Seligman, New Mexico's first statewide highway patrol is established under the name New Mexico Motor Patrol as an all-motorcycle force with just ten officers. Regular civilian license plates were issued to the Motor Patrol's Harley-Davidson police motorcycles.
1933 – Beginning with the first plates issued under statehood, the state had bought all of its license plates from out-of-state civilian contractors. In late 1933 New Mexico buys its own manufacturing equipment and installs it in the State Prison at Santa Fe. From 1934 through 1998 all New Mexico plates are made by convicts at the State Pen.
1935 – The New Mexico Motor Patrol changes its name to New Mexico State Police, and beginning in 1938 will receive special plates for its vehicles. These plates bear the "State Police" name, and the practice continues to this day.
1936 – Total motor vehicle registrations exceed 100,000.
1937 – Other than the current Centennial plates, 1937 is the only year that New Mexico ever made a regular-issue license plate whose color even remotely resembles turquoise. In fact, the '37 color is best described as robin's egg blue, and it has dark maroon numbers. Officially, the colors are called "Navajo red on turquoise blue."
1937 – Salesman plates are introduced.
1937 – Truck registrations exceed 25,000.
1939 – Salesman plates are discontinued and School Bus plates are introduced in the same general layout as the former Salesman plates.
1940 – In commemoration of the 400th anniversary of Francisco Vázquez de Coronado's passage through the state, and for this one year only, the phrase "CORONADO CUARTO CENTENNIAL" appears prominently across the top of New Mexico's plates .
1941 – New Mexico's recently adopted nickname of "The Land of Enchantment" appears on license plates for the first time. The word "The" is dropped in 1952.
1941 – Special plates are made available to members of the New Mexico Mounted Patrol, an all-volunteer police auxiliary organization whose operations were largely carried out on horseback. The license plates were for their cars and trucks, not the horses.
1943 – The critical metal shortages of World War II induce New Mexico to forgo issuing metal plates. Instead, vehicles keep their 1942 plates, and receive a paper decal which is glued to the inside of the windshield. The only exceptions, motorcycles and trailers (which typically did not have windshields), receive their usual metal plates.
1944 – Metal plates are reintroduced, but in keeping with war materiel conservation each vehicle receives only one plate, a policy that will last through 1947.
1946 – Special plates are made for a limited number of elected officials other than just the Governor. The Secretary of State, for example, receives a plate embossed with that title.
1947 – With the close of World War II in 1945, America found itself with tens of thousands of unneeded military airplanes. What to do with all that aluminum? Make license plates out of airplanes! Whereas all New Mexico plates in the past were made of steel, 1947 was the beginning of several years of aluminum plates. Since that time the state has switched back and forth between the two materials as costs have fluctuated.
1947 – A numerical county number prefix is added to all plates, with the zia symbol separating the county number from the plate serial number. Santa Fe gets county #1, Bernalillo #2, and so on through #31 for Mora County. The counties are renumbered in 1948, with all but eight counties receiving reshuffled prefixes. Los Alamos County, formed in 1949, subsequently is assigned #32, while Cibola County, created in 1981, came along after county prefixes had already been discontinued in 1972.
1947 – New Mexico registrations of passenger cars alone surpass 100,000 for the first time.
1948 – New Mexico resumes issuing two plates to each vehicle. The 2-plate policy will last another dozen years, until 1960.
1949 – Instead of the usual smooth surface, 1949 plates are embossed with a textured, or "waffle" surface, making the aluminum less susceptible to cracking from vibration. Other than some leftover blanks used to make a few plates in the early 1950's, waffle plates will never be seen again.
1949 – Truck registrations exceed 50,000 and total motor vehicle registrations exceed 200,000.
1952 – Reflective tags are introduced, but on Official plates only.
1952 – The word "TRUCK" is dropped from a very small number of truck plates issued late in the year, while retaining colors that are the reverse of those on passenger plates.
1953 – The two-digit year is moved out of the zia and placed in the upper left corner of the plate. To make room, the word "THE" is dropped from the "THE LAND OF ENCHANTMENT" slogan.
1953 – Because their cars were equipped with two-way radio communication equipment which could be useful in highway emergencies, the state begins issuing special plates to licensed amateur ("ham") radio operators in 1953. Bearing the radio call sign of the operator, these plates make it easier to identify those who might be able to assist in an emergency. These special plates are still available today.
1953 – For the first time, special plates are made available to New Mexico State Senators and State Representatives, and have been available continuously since then, except 1954.
1953 – The word "TRUCK" is again dropped from some truck plates, with the conversion complete by the end of the year. Colors will continue to be the reverse of those on passenger plates through 1960.
1953 – Automobile registrations pass the 200,000 mark and total registrations exceed 300,000.
1953 – This is the last known year that seals, or "tabs," were used on Commercial plates.
1955 – House trailers are required to be registered and obtain distinctive license plates, even if they aren't going anywhere.
1955 – For this one year only a special tag is issued to "small trailers."
1956 – At the urging of the automobile industry, New Mexico joins with all other states in the country in standardizing the size of their plates to six by twelve inches, thereby simplifying the manufacture of bumpers.
1959 – Passenger car registrations exceed 300,000 and trucks exceed 100,000.
1960 – New Mexico begins issuing renewal stickers for the first time, rather than issuing new plates every year. The 1960 stickers are affixed to the 1959 plates. Governor John Burroughs receives sticker # 1.
1960 – Total registrations pass the 500,000 mark.
1961 – Undated plates are introduced to facilitate the use of renewal stickers over a multi-year period. Although plates with embossed dates would appear a few more times in the future, the undated plate is here to stay.
1961 – Reflective plates are adopted for general use, a decade after they were first used on Official vehicles.
1961 – The practice of making truck plates with colors the reverse of passenger colors is ended. From now through 1974 truck tags will have distinctly different colors.
1961 – The front license plate is eliminated, returning to the one-plate-per-car policy which is still the rule more than a half century later.
1963 – Horseless Carriage license plates become available for vehicles more than 35 years old. At the time, the 35 year age stipulation made perfect sense for this classification, but the requirement has never been updated, which means that today you can get a Horseless Carriage plate for a 1979 muscle car.
1966 – Motorcycle registrations exceed ten thousand for the first time.
1966 – Automobile registrations pass the 400,000 mark.
1967 – Personalized, or "vanity" plates are made available for cars and trucks. Although only forty-three of these plates are sold the first year, they will later become immensely popular.
1969 – The letters "USA" are added after the state name to help geography-challenged people in other states know where we're from.
1969 – Truck registrations pass 150,000.
1970 – Automobile registrations are up to 450,000 and motorcycle registrations reach 20,000.
1970 – Total registrations exceed 750,000.
1972 – Motor vehicles have become so numerous that New Mexico's license plates have run out of room for numbers. This forces the elimination of the county number prefixes, and the introduction of the three-letter / three-number system for cars. Truck plates will follow suit in 1975.
1974 – Through a combination of material shortages and bureaucratic bungling, the state runs out of steel license plate blanks and finds itself forced to issue paper license plates. Two months later the state is finally able to obtain a supply of aluminum blanks, and vehicle owners are mailed metal plates bearing the same number as appeared on the corresponding paper plate.
1974 – During the Arab oil embargo, a special renewal sticker is issued to vehicles which run on propane, or LPG.
1975 – The county prefix system is eliminated on Truck plates. In its place is a two-letter / four-number serial configuration.
1975 – A general reissue of virtually all non-passenger plates is done in red-on-yellow colors.
1976 – In order to satisfy motorists who lamented the loss of the county number system, plates are introduced which have a rectangular depression at the top where a decal bearing the county name can be optionally affixed.
1976 – In celebration of the country's bicentennial, purchasers of vanity plates this year receive a stunning red, white and blue license plate.
1979 – Although today's familiar red-on-yellow color scheme had been used sporadically as far back as 1929, it isn't until the end of the 1970's that these colors, drawn from those of the state flag, become permanent.
1979 – Vanity plates are made available for motorcycles for the first time.
1980 – The flood gates are opened, and over the next thirty years the State Legislature authorizes dozens of new types of license plates to be issued to commemorate New Mexico military veterans, public servants, volunteer organizations, fraternal organizations, museums, universities, and other special causes.
1982 – For the past seventy years, New Mexico's license plates had always expired on December 31, sometimes with a 30- or 60-day grace period. Consequently, the workload at the Department of Motor Vehicles (later renamed the Motor Vehicle Division) during this period was not only unmanageable, but was further exacerbated by the renewal period falling in the middle of the traditional Christmas - New Year's holiday season. In April 1982, the staggered registration system is introduced, such that a vehicle's registration will expire in the same month that it was initially registered, thereby spreading the Department's workload evenly throughout the year. Renewal stickers, therefore, now bear the month as well as the year.
1992 – For well over a half century, since 1930, New Mexico has issued unique plates to light trucks (e.g., pickup trucks). Hereafter, they will receive the same plates as cars.
1992 – The three-letter / three-number layout is reversed to a three-number / three letter sequence. Native American designs and picture of a yucca are added to the border.
1999
–
Optional 2-year registration became available January 2, 1999.
2000 – The popular "balloon" plate is made available for general issue.
2001 – Since their inception in 1960, the serial numbers on renewal stickers had no direct relationship to the serial numbers of the plates themselves. In 2001 the serial numbering system on the stickers is changed such that the sticker serial matches the plate serial. This is done for all types of plates, not just those for passenger cars.
2010 - 2016 – One hundred years after New Mexico's first license plates were issued, the Motor Vehicle Division makes available the "turquoise" Centennial plate. A common misconception is that this is a "retro" design, harking back to the appearance of New Mexico's early license plates. In fact, the only year that New Mexico had plates whose color came even close to resembling turquoise was 1937, and even on those plates the numbers were dark maroon, not yellow. In spite of grumbling about these new plates being difficult to read, they have become wildly popular with motorists.
2016 - 2019 - The Centennial slogan at the top of the turquoise plates is removed because it is no longer timely. Turquoise plates are still available, though, now with the Land of Enchantment slogan moved up from the bottom of the plate to take the place of the Centennial slogan. Additionally, the letters "USA" which had not previously been used on the turquoise tags, have been added after the state name.
2017 – In a race to beat out Colorado—a state alleged to have designs to usurp New Mexico's long standing title of "Chile Capital of the World"—the New Mexico MVD began releasing its new Chile license plates on July 10, 2017, somewhat earlier than originally planned. These plates were initially made available in Passenger Car, Motorcycle, Vanity, and Motorcycle Vanity styles, all of which are illustrated in the respective categories here on the NMplates.com website.
-Back-