Vanity
Officially called "Prestige" plates or "Personalized" plates, they are far more often referred to as vanity plates. New Mexico introduced them in 1967 but several years elapsed before they became particularly popular in this state. They are available for cars, trucks and motorcycles, with an extra annual fee charged over and above regular registration fees.
See also
Motorcycle Vanity
.
Though more restrictive the first few years they were available, today the rules for vanity plate characters are much more flexible. Chile plates may have 1 to 6 characters; yellow plates, 1 to 7 characters; and turquoise plates 1 to 8 characters. Motorcycle vanities, because of their smaller size, are more limited: Chile, 1 to 5 characters; yellow and turquoise, 1 to 6 characters. In the past a limited set of special characters were permitted, including blank spaces, dashes, apostrophes, the Spanish Ñ and the Zia symbol, but as of 2018 these have all been eliminated. At present only letters and numerals are allowed, and even these must be run together with no blank spaces. The MVD is authorized to reject a requested character set if it is found to be derogatory or obscene, or if it falsely states or implies that the driver or vehicle represents the authority of a governmental agency or official.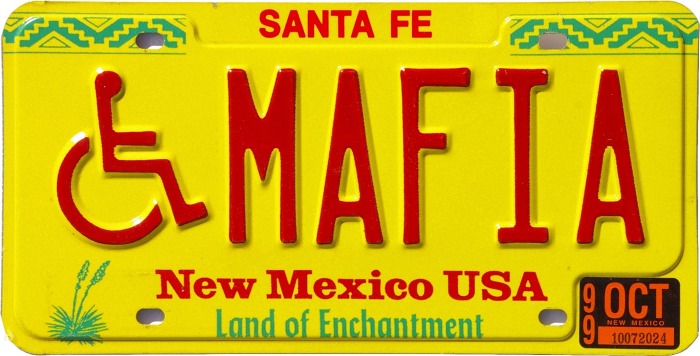 Handicap Vanity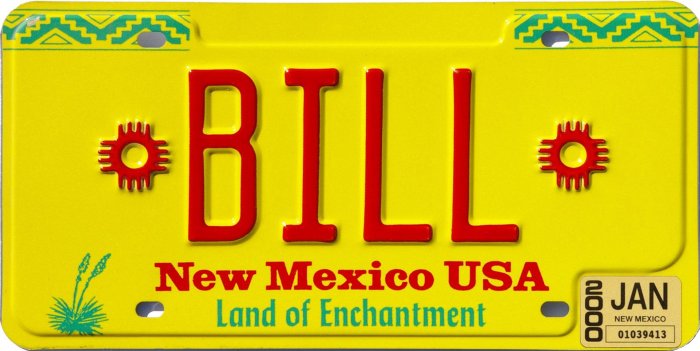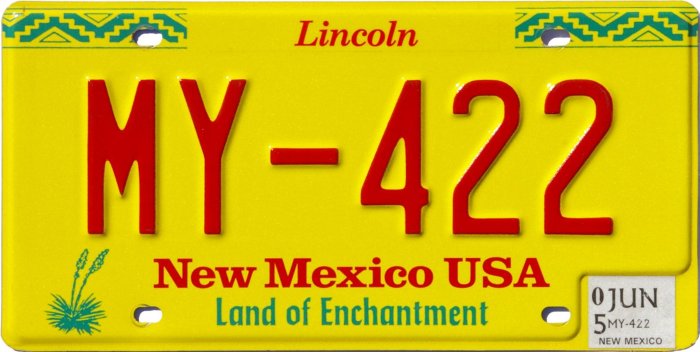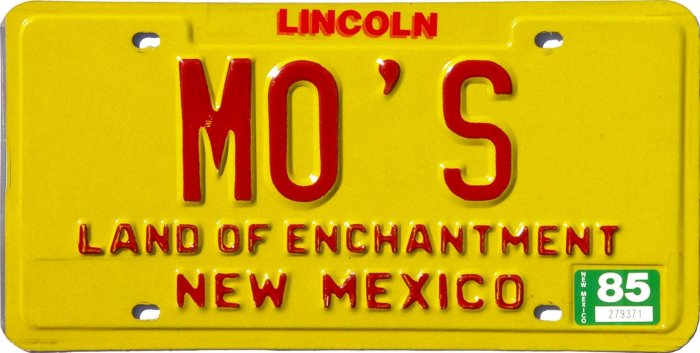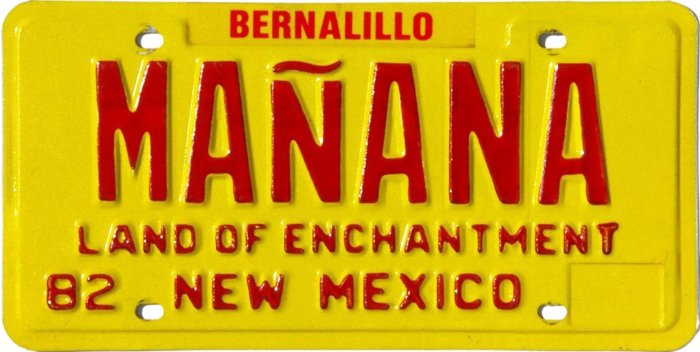 Special Characters on Vanity Plates. In addition to letters and numerals, New Mexico made available certain special characters which motorists could select for use on vanity plates, some of which were never available in any other state. These were the zia symbol, blank space, hyphen, apostrophe and the Spanish Ñ. Introduced a few years after personalized plates first became available here, New Mexico's vanities thereby became among the most expressive and meaningful in the country. In the latter part of 2018, and without explanation, the MVD withdrew all of these special characters from use. Plates from the past bearing these characters, such as those immediately above, now stand as icons of a bygone era. Please see also Special Characters used on Motorcycle Vanityplates.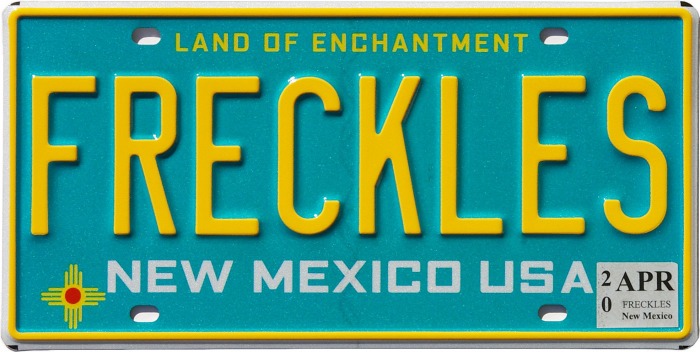 8-character Vanity. Up to eight characters are permitted on turquoise vanity plates, whereas a maximum of only seven are allowed on the yellow yucca tags, and six on chile vanities.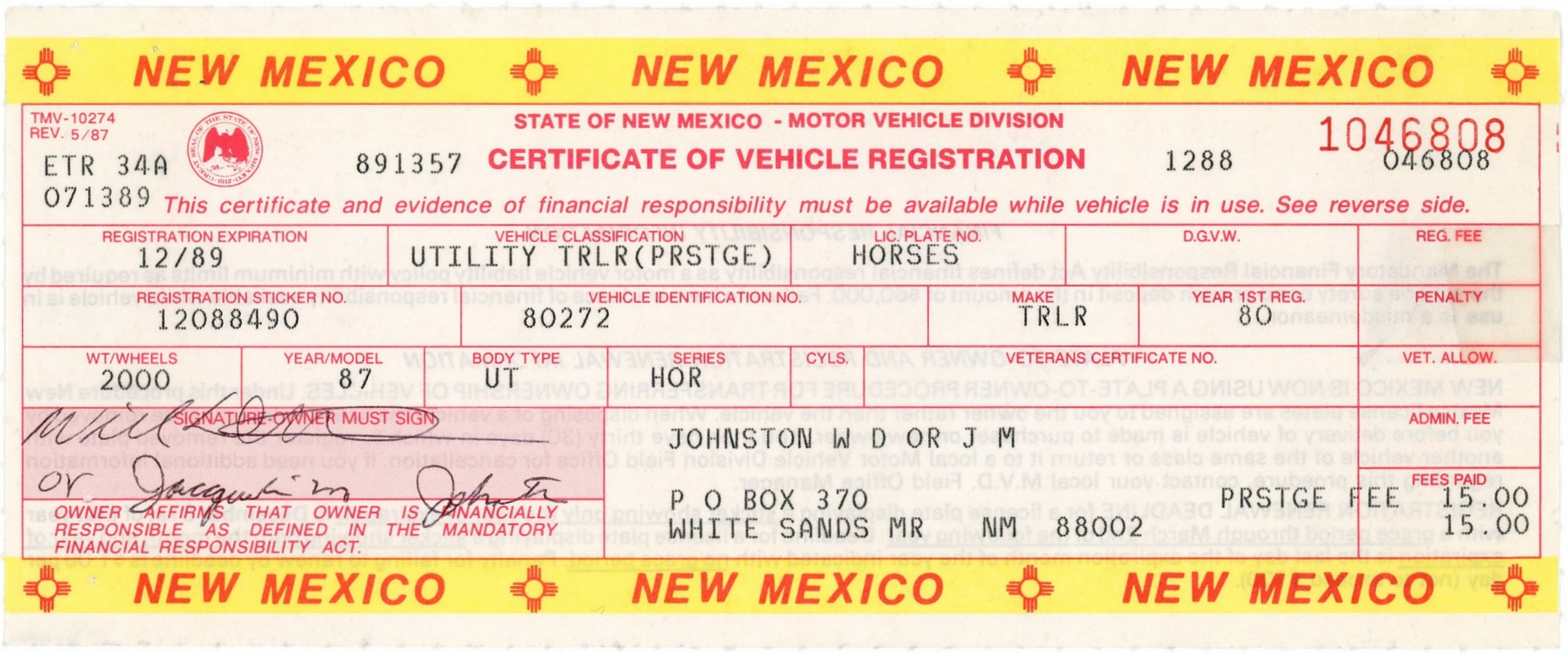 Until about 2008 the MVD would issue vanity (prestige) plates to trailers. Shown here is a 1989 registration certificate for the plate HORSES issued to a 1987 Logan Horse Trailer.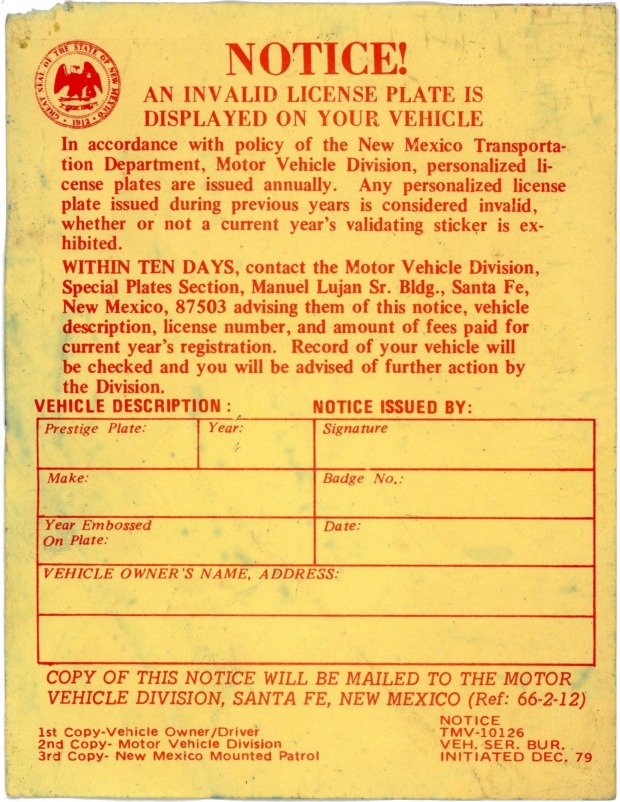 Invalid Personalized License Plate Citation. When vanity plates were first made available in 1967, and for a number of years thereafter, holders of these plates received a new plate each year upon renewal of the registration. During these years stickers were not valid for renewals. As noted thereon, these citation forms were introduced in December 1979, but by 1983 the practice of issuing new plates each year was abandoned, and since that time vanity plates have been renewed with stickers like all other passenger car plates. Another point of interest is that these citations were apparently issued only by Mounted Patrol officers. Courtesy David L. Minton.