Governor & Lieutenant Governor
For a long time, being the governor of New Mexico didn't bring with it any special dispensation when it came to assignment of license plate numbers. When the state first began issuing license plates in 1912, plate #1 and other low numbers went not to the governor, but to wealthy merchants, bankers and other movers and shakers of the business world. Finally, in 1924, plate #1 was reassigned to the governor, who in that year was James F. Hinkle. This was the regular passenger car plate which had been previously assigned to one of the rich guys and it wasn't until 1928 that the governor's plate was embossed with the word "GOVERNOR." Some years later a special plate #2 was made for the Lt. Governor.
The plates shown here belonged to the following governors:
1927 Arthur Hannett (D)
1928 Richard C. Dillon (R)
1929 Richard C. Dillon (R)
1930 Richard C. Dillon (R)
1934 Andrew W. Hockenhull (D)
1938 Clyde Tingley (D)
1939 John E. Miles (D)
1940 John E. Miles (D)
1945 John J. Dempsey (D)
1947 Thomas J. Mabry (D)
1959 John Burroughs (D)
1960 John Burroughs (D)
1963 Jack M. Campbell (D)
1967 David E. Cargo (R)
1974 Bruce King (D)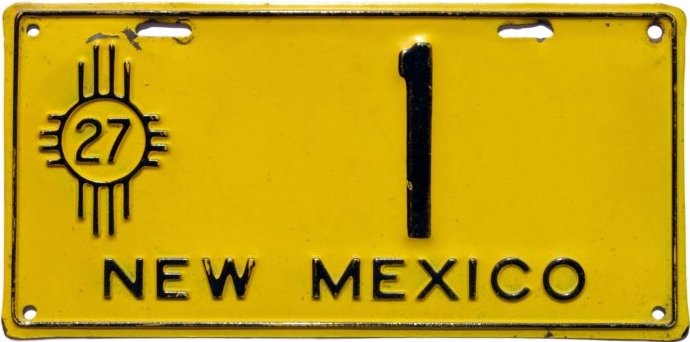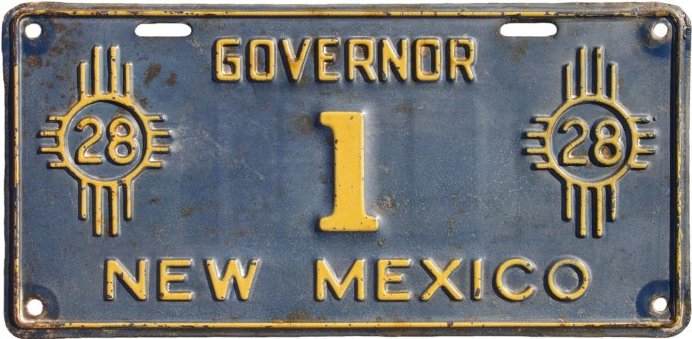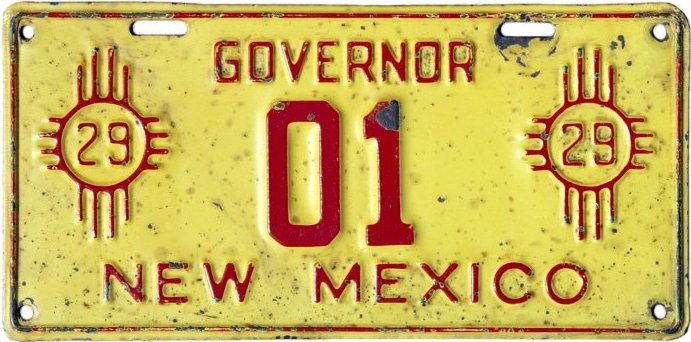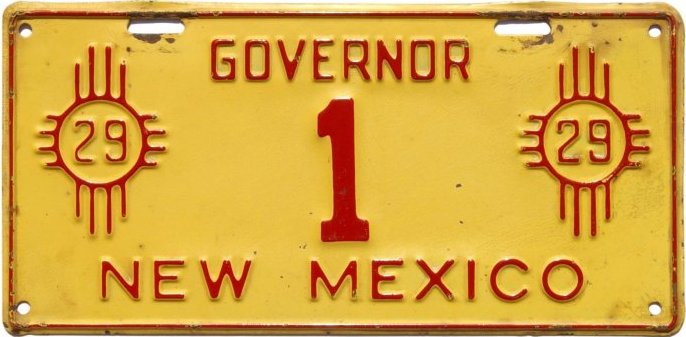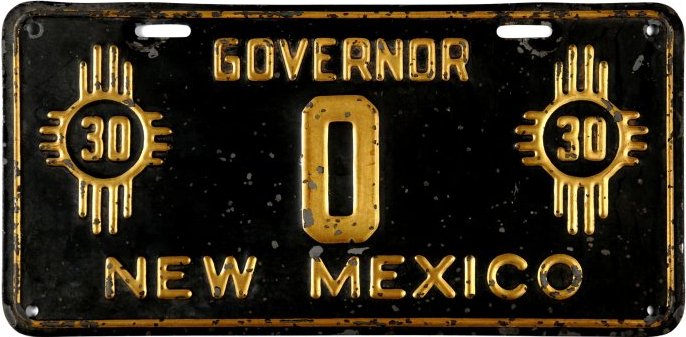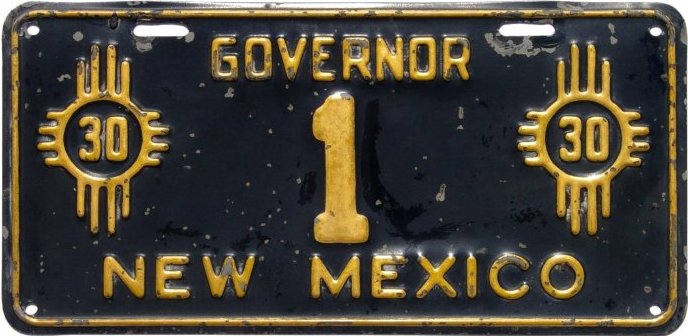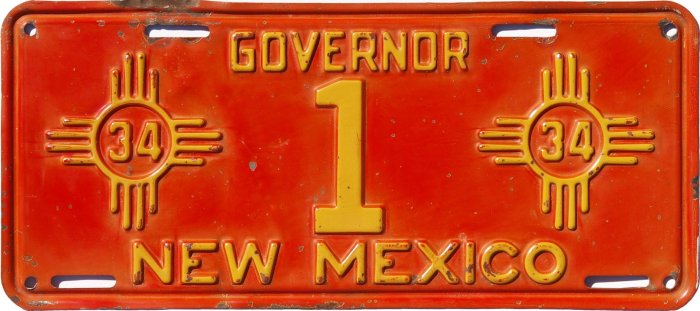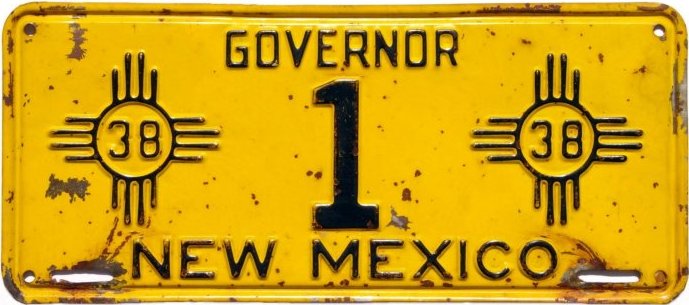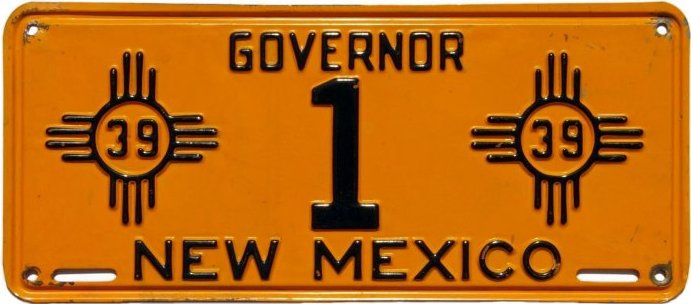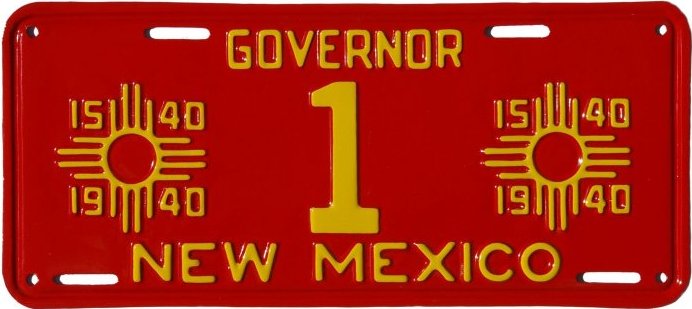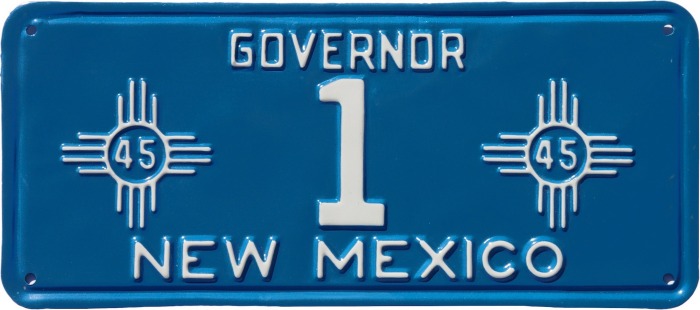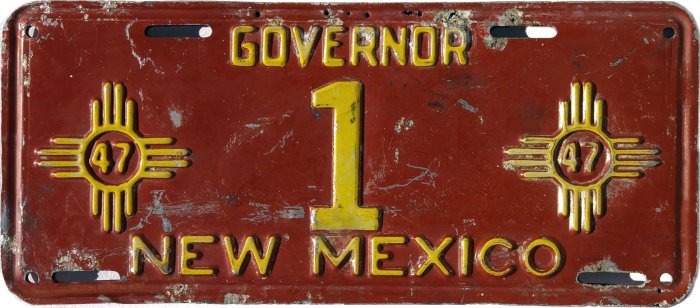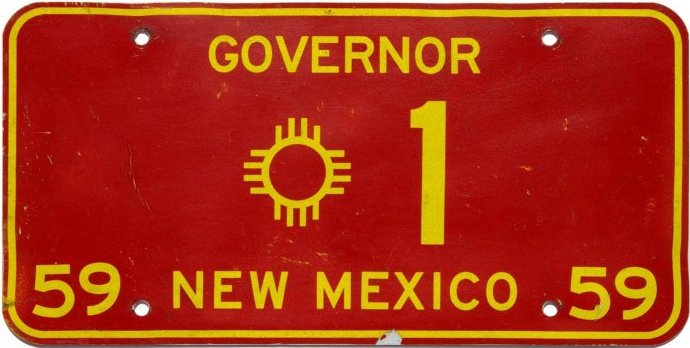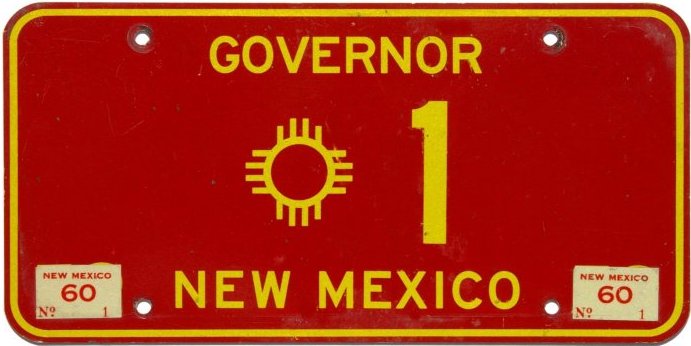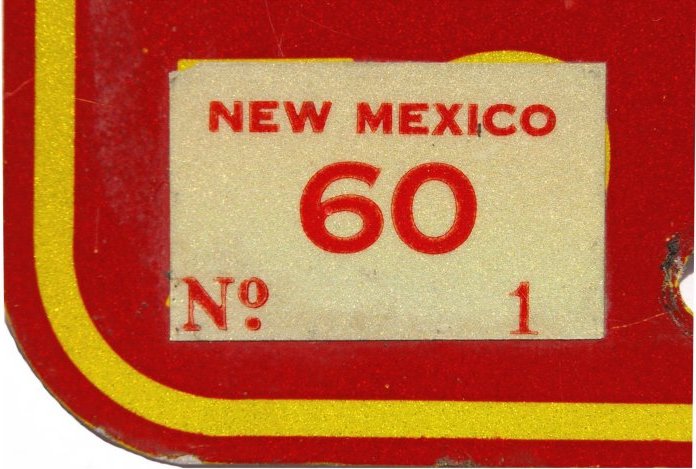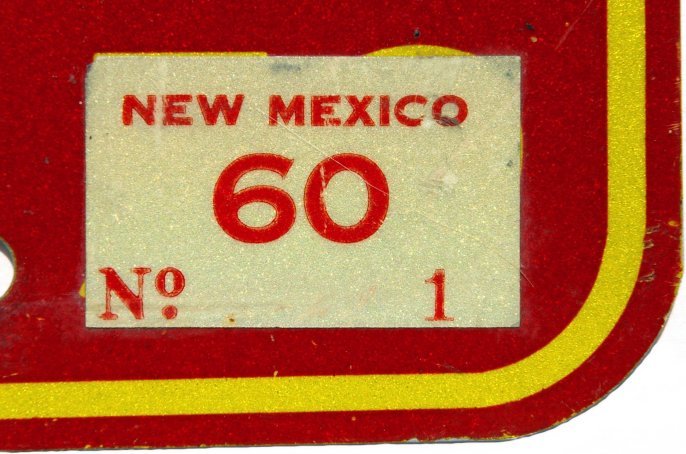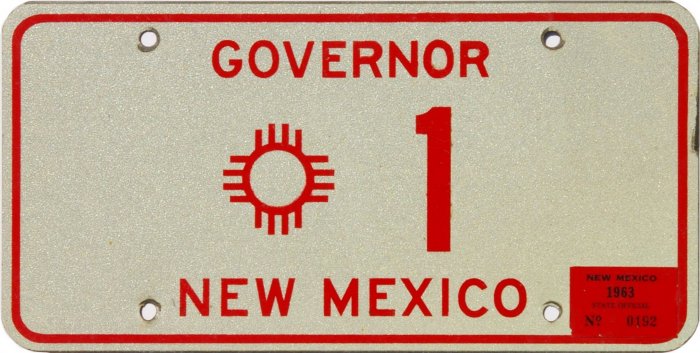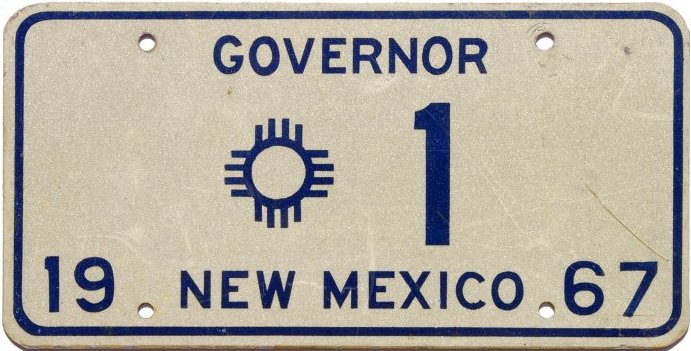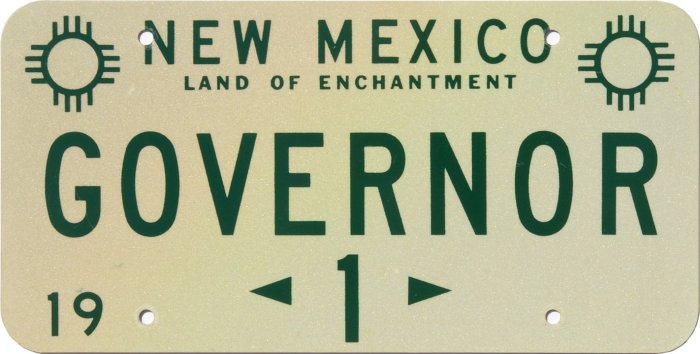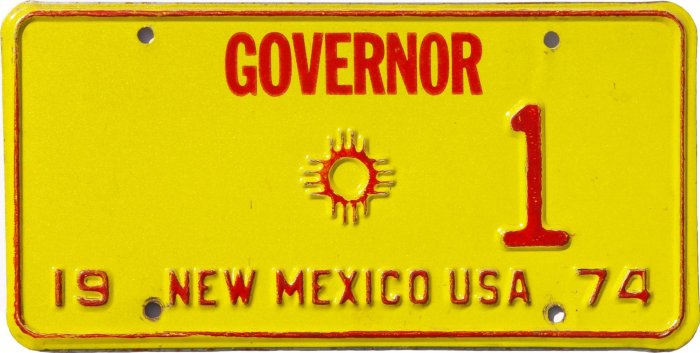 The Governor plate shown immediately below, though it is undated and does not have the "USA" designation on it, is otherwise in the style of the regular 1974 Governor plate, and was clearly a prison-made plate of that era. It may have been made as a front plate for the Governor's official vehicle, something for the Governor to give away as a souvenir, or some other similar purpose.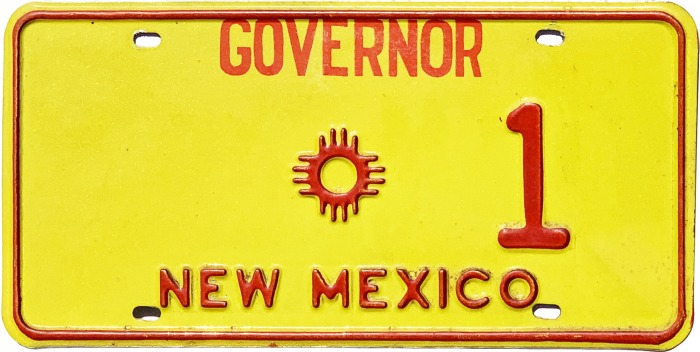 The Lt. Governor plates shown here belonged to:
1936 Luis C de Baca (D)
1945 James B. Jones (D)
1977 Robert E. Ferguson (D)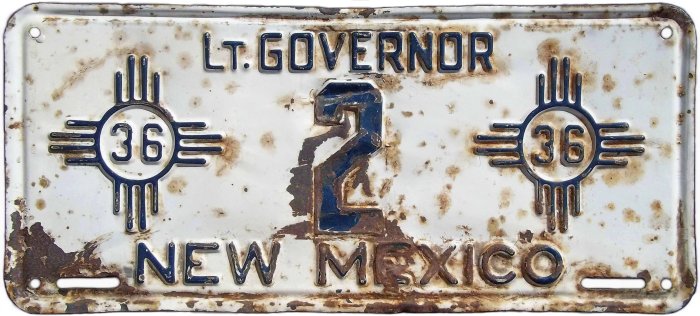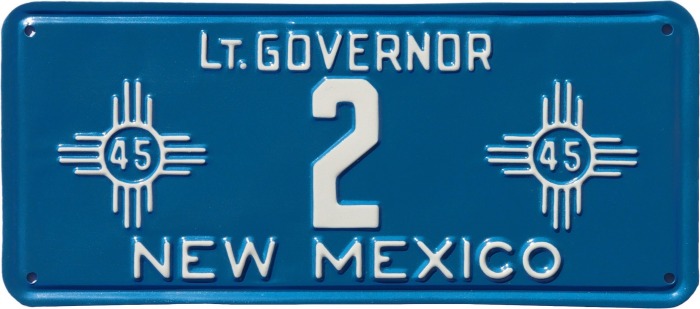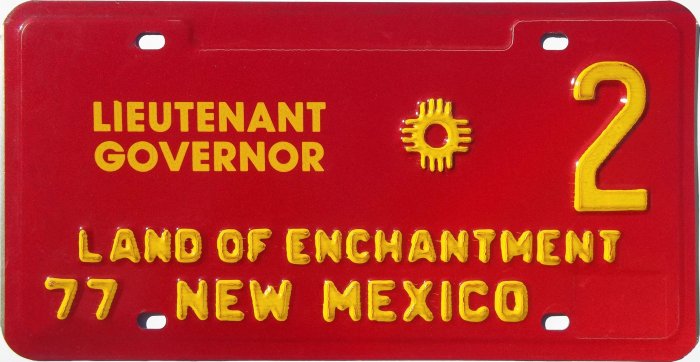 Photo Credits: 1936 and 1977 Lt. Governor courtesy Michael Wiener and John Barth. All others by Bill Johnston.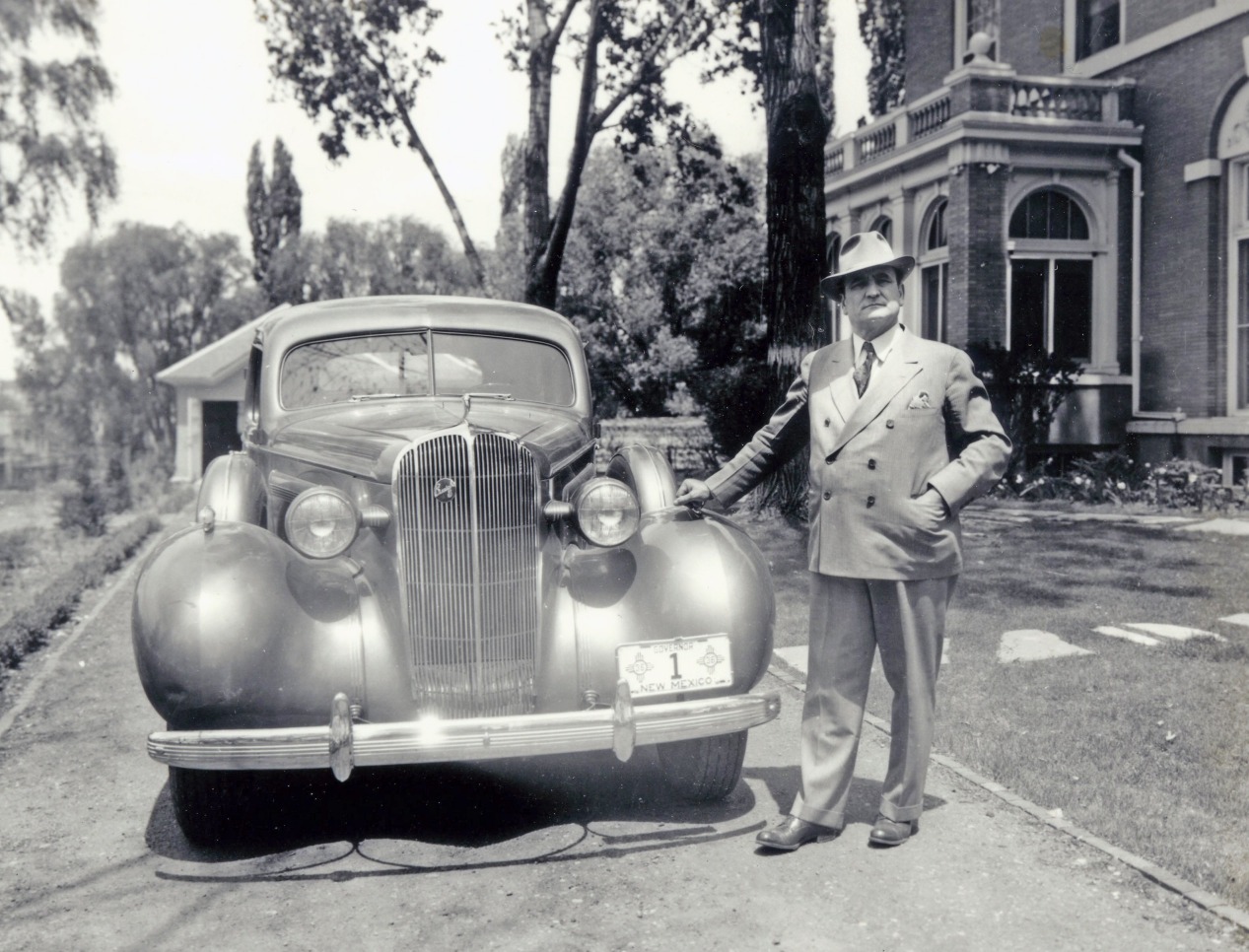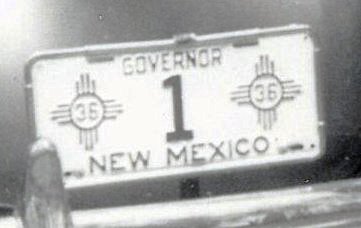 Governor Clyde Tingley proudly shows off his new Buick, sporting his 1936 Governor plate. The plate is shown enlarged in the
accompanying detail. Author's collection.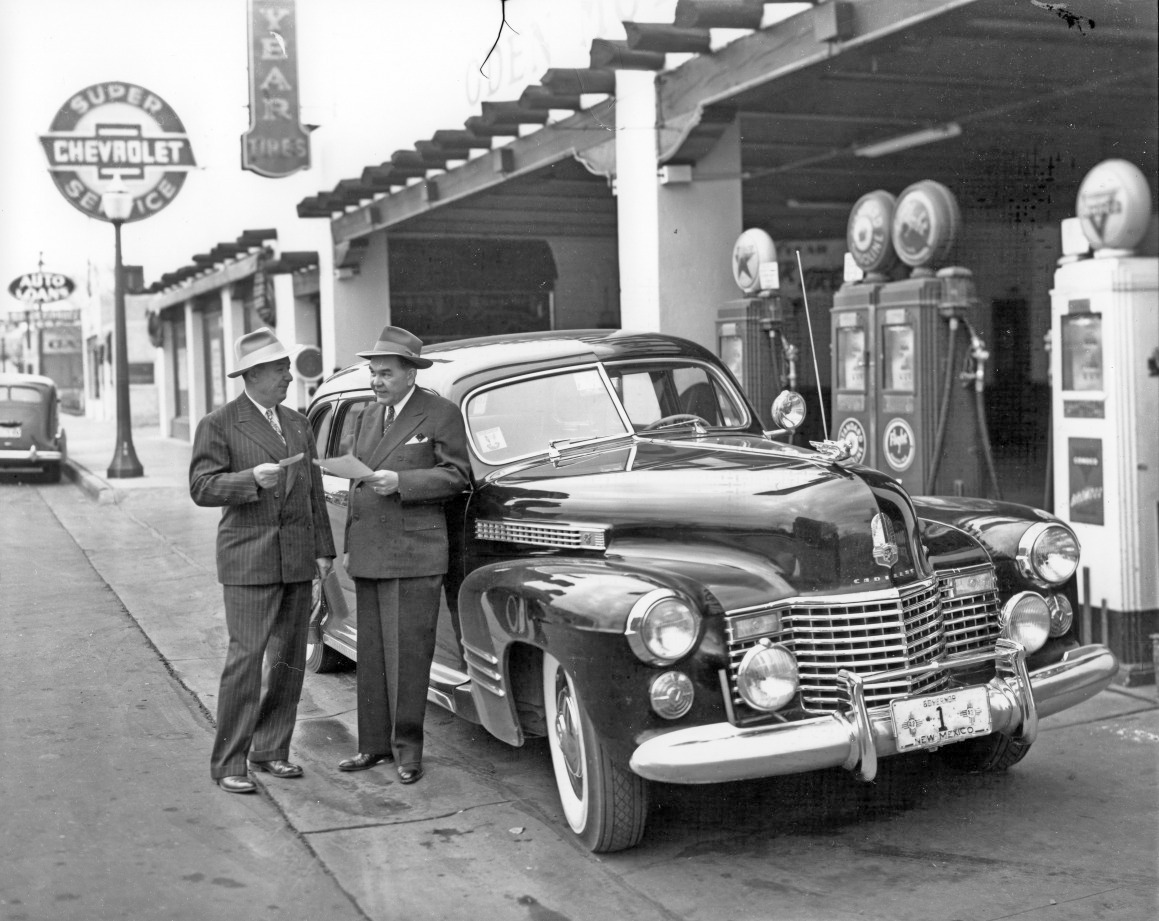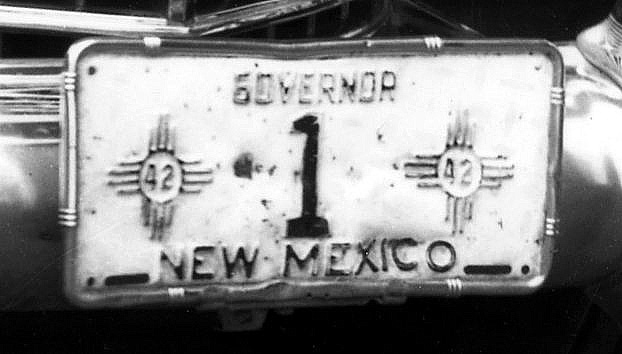 Governor John E. Miles with his 1941 Cadillac and 1942 Governor Plate. Miles, the man leaning against the car in the photo above,
was a Democrat who served from 1939 through 1942. His 1942 Governor plate is shown enlarged in the detail, peppered with numerous dings
and dents. The scene is in front of the Oden Motor Company at 312-324 North Fourth Street in Albuquerque. Courtesy Albuquerque Museum.