Cereal & Gum Premiums
From time to time various breakfast cereal companies have offered toy license plates as premiums, either as inserts in the cereal box itself, or by mail order. Perhaps best known are the 1953-1954 Wheaties (General Mills) tags, and the Post cereals premiums representing a selection of years from the 1965-1990 era. Millions of these and similar toys from other cereal companies remain in circulation today, frequently appearing on internet auction sites, being hawked as "rare bicycle license plates." They are by no means rare, but probably many kids did attach them to their bikes and Radio Flyer wagons. You can see examples of real bicycle license plates here.



Wheaties
Post Cereals
Baker's Chocolate
Post Cereals
Post Cereals
Wheaties


In a fashion similar to baseball trading cards packaged with chewing gum, the Goudey Gum company of Boston enclosed small license plate trading cards with its gum for several years in the second half of the 1930s. A few other companies, including some foreign ones, produced similar license plate premiums packaged with gum or candy.
Maple Leaf Chewing Gum

Maple Leaf, a Dutch company based in Amsterdam, gave away these tiny (2.5 cm x 7.0 cm, or 1" x 2.75") metal license plates in packages of gum. The legend on the back reads:

Available from: Maple Leaf Chewing Gum, Melfri Chocolate Milk, Sterovita Coffee Creamer
Puffy Sticker license plates were small, squishy 3-dimensional novelty tags measuring 1" x 2¼", with a self-adhesive backing. Sold during the late 1970s in sealed envelopes with no outward indication of what state was inside, the premise was that kids would keep buying them until they got all 50 states, or went broke trying.
1956 Chevy Nomad Route 66 K-Mart toy with 1956 New Mexico toy license plate. In the early 2000s K-Mart sold several different die-cast model cars, each of which included a miniature 1¾" x 3½" New Mexico license plate. On the back bumper the car itself is a very tiny 3/16" long exact replica of the larger separate toy plate.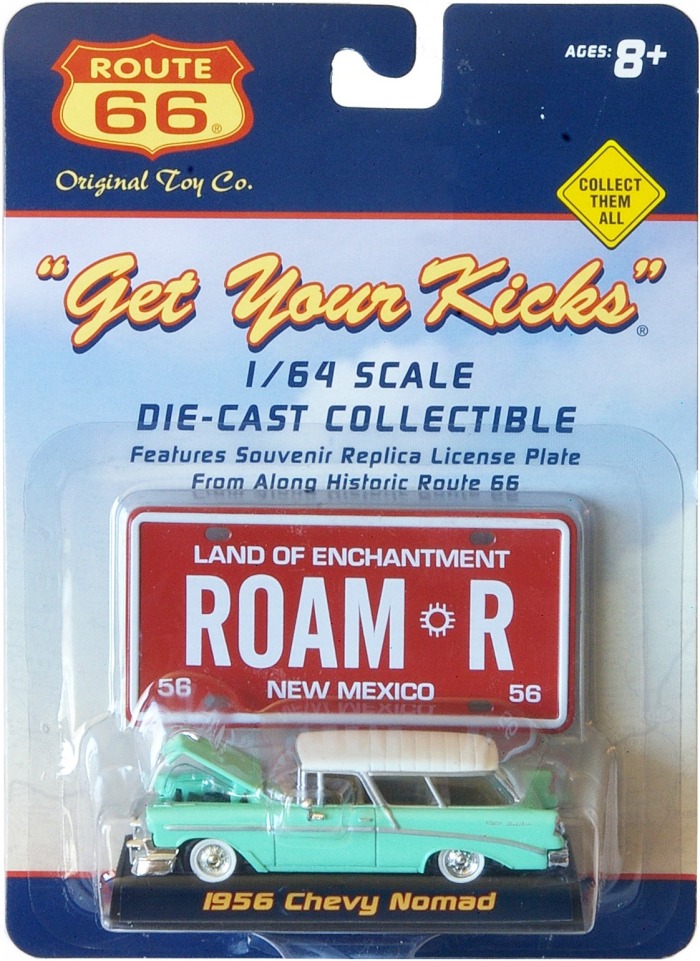 Gum ball machine bracelet charm. This tiny 1950 license plate measures only one inch across.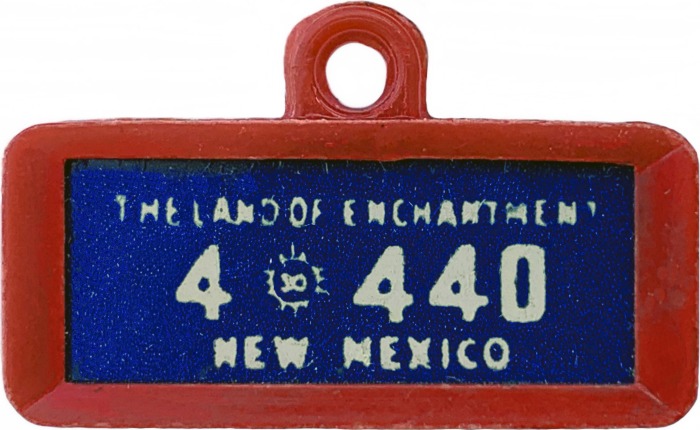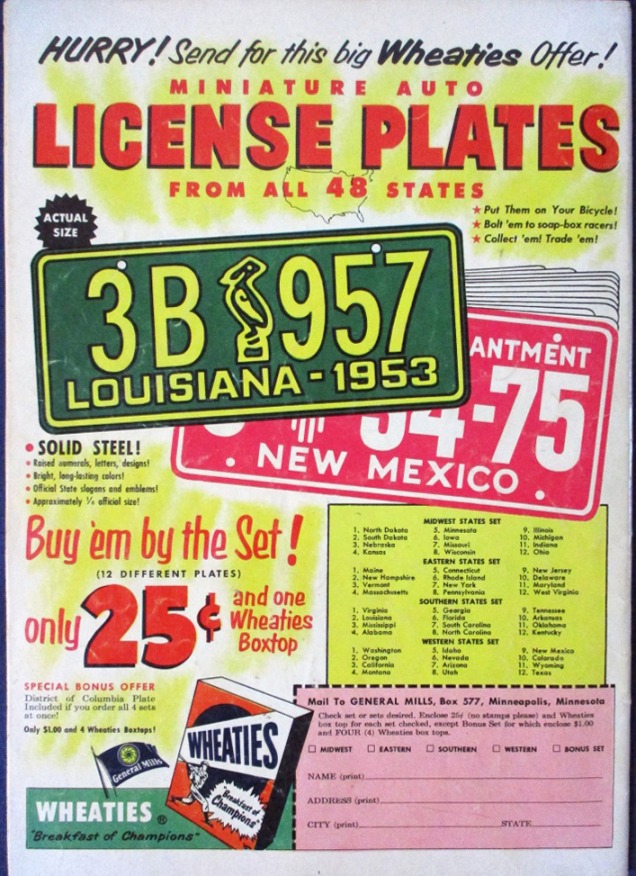 Advertisement for Wheaties toy license plates from the back cover of the June 1953 issue of Walt Disney's Comics and Stories No. 153 comic book. Courtesy Rick Holben.