Apportioned, Interstate, International Registration Plan (IR/IRP)
Issued to trucks operating in interstate service. Typically, these are tractor trucks pulling large semi-trailers. Registration fees are based on miles driven within New Mexico as a proportion of the total miles driven during the year. Plates dating from the 1960s with the PR (prorate) prefix are related to later plates bearing the prefix IR, those with the legend "APPORTIONED" and plates bearing both "APPORTIONED" and the IR prefix.

As far as is known, 1975 was the first year that New Mexico plates bearing the IR prefix were issued, and in fact they are described in a 1975 DMV publication, but not in publications from any earlier years.

New Mexico's first plates bearing the APPORTIONED designation were issued in 1990, with 1991 expiration dates. The 1992 plate shown below, therefore, is a very early example of this type, having been issued in the second year of their use.

Although New Mexico switched to a staggered registration system in April 1982, Apportioned plates were among just a very few types which retained the annual December expiration date. Apportioned plates were finally changed to the staggered system in about 2001-2002.

IR tags are also known as "reciprocity" plates and the IR prefix is actually an abbreviation for IRP, which is the USA-Canada International Registration Plan. IR plates are used for trucks operating interstate within the U.S., as well as those traveling cross-border into the Canadian provinces.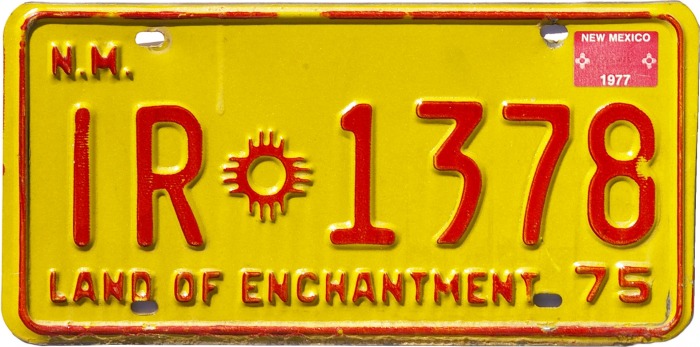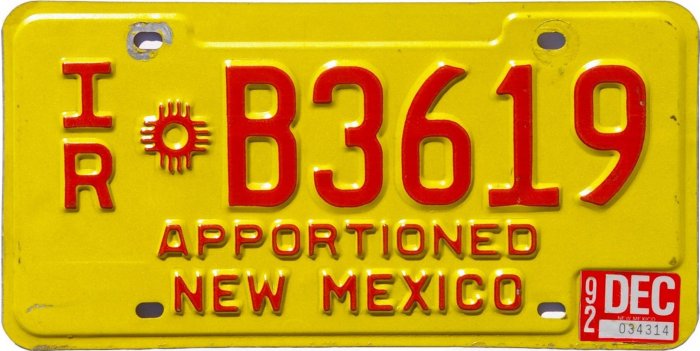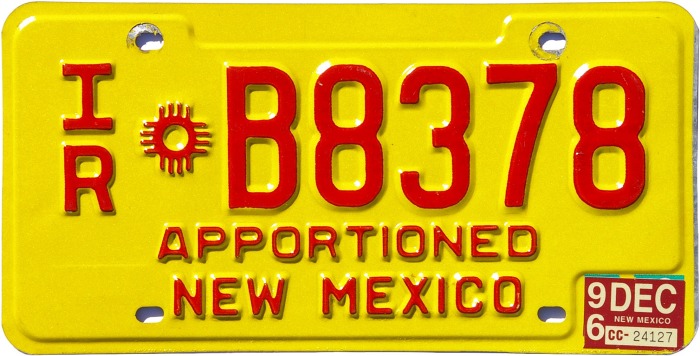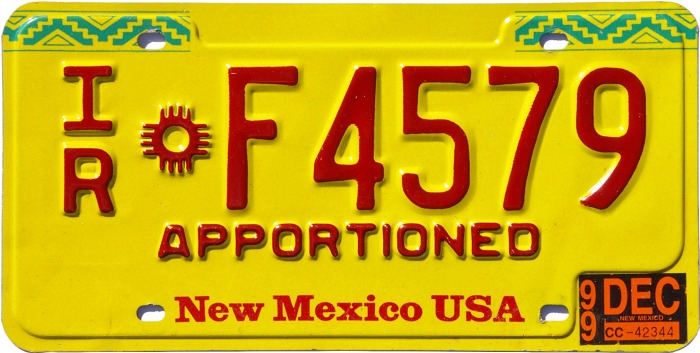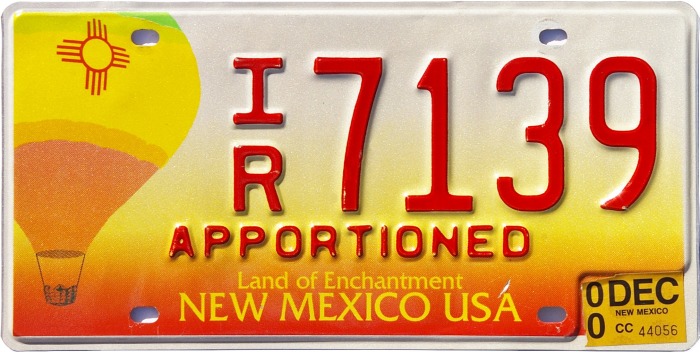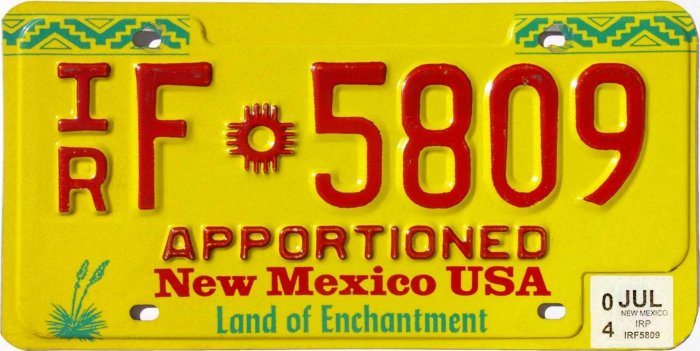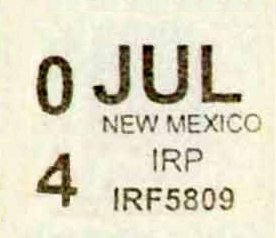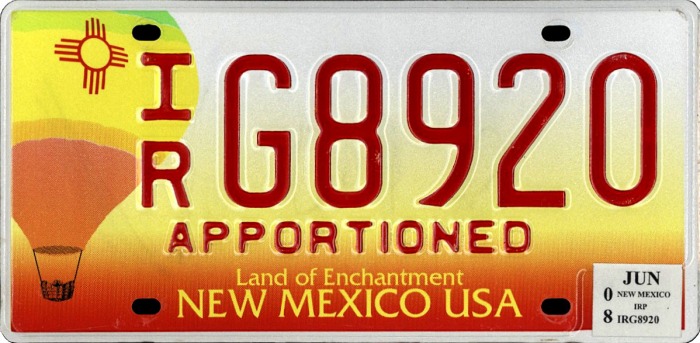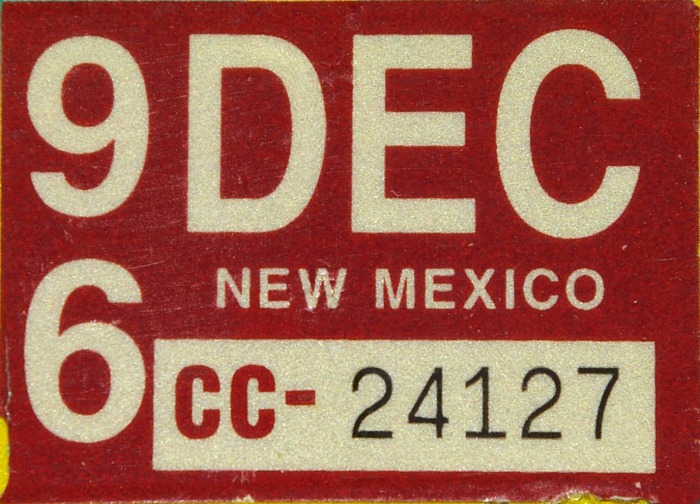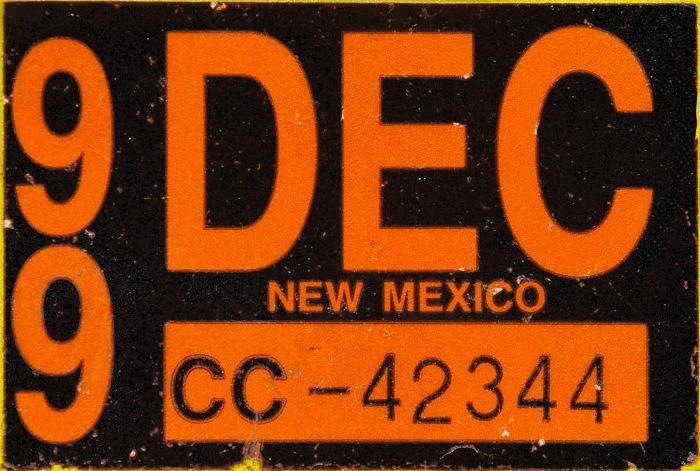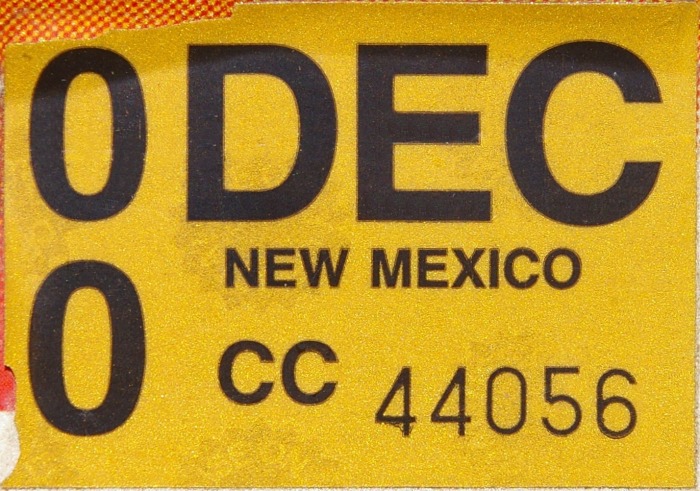 Apportioned plates are known to have been issued in at least the years 1996-2000, inclusive, with unique validation stickers containing serial numbers bearing a "CC" prefix. The "CC" is no doubt significant but its meaning is not known with certainty. Possible meanings include "Commercial Carrier," "Common Carrier" and "Corporation Commission."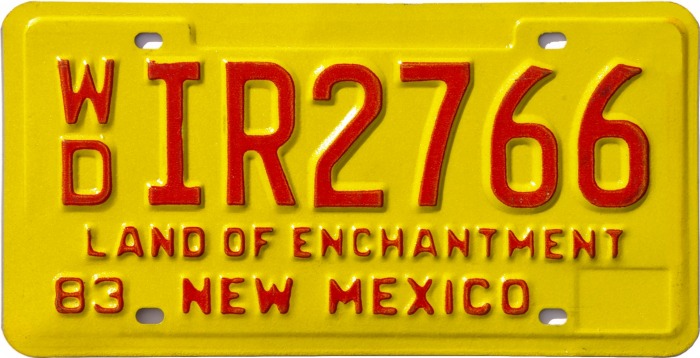 This plate, WD-IR2766, by all appearances a combination of the Weight Distance and International Registration Plan types, has not been positively identified as to its purpose. It is not described in the MVD publication New Mexico License Plates 1984 Edition, though that publication

does

show the regular 1983 Weight Distance plate with the embossed "83."

If you have any information on this type of plate, and especially if you have documentation on it, please contact us.
Photo Credits: 2008 IRG8920 courtesy Jim Moini. All others by Bill Johnston.